Broadcast News
16/07/2014
Forbidden's Forscene Cloud Powers IBC TV Expansion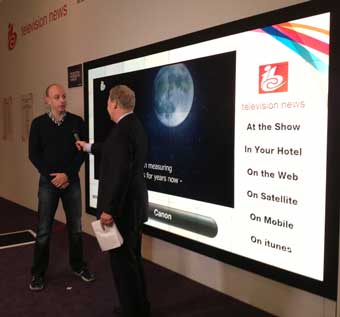 Over the past six years, Forbidden Technologies has worked with IBC TV News, the official TV and webcasting channel for the International Broadcasting Convention (IBC), to make content shot during the annual September show in Amsterdam available to exhibitors and news outlets.
Tens of thousands of visitors flock to IBC every year for a week of exhibitions, education and networking and it's impossible to experience it all. IBC TV News allows on-site and virtual visitors to keep up with the top news, interviews, and conferences by producing webcasts and live broadcasts from the show floor on a daily basis.
Since IBC2008, IBC TV News (now known simply as IBC TV) - bringing you content everywhere - has reached more than 50,000 attendees and 1,500 exhibitors per year.
Over the last six years, Forscene has partnered with IBC TV News to provide credentialed news outlets and exhibiting companies with access to all this IBC footage.
Forscene has let them preview what's available through a Web browser, select shots, and request a download either at MPEG-4 quality for Web delivery or at full broadcast quality, ready to air.
With such a large show, IBC TV naturally accumulates an abundance of material that is not only popular during the show, but also retains relevance long after IBC ends, so the broadcaster has decided to go long, day-long and year-long, that is. And Forscene will serve as one of the core technologies behind the expansion.
Starting with IBC2014, IBC TV will expand their live programming during the conference and exhibition to 12 hours of continuous programming each day for both online and conference distribution. The program will repeat overnight for full, 24-hour coverage. Then, after IBC2014 wraps up, anyone with authorisation will be able to use Forscene to tap into IBC TV's wealth of content and reuse it long after IBC is over.
Forscene will provide wide-area syndication tools as in the past, but now on a grander scale. IBC TV will have unlimited access to the Forscene cloud and a 20-megabit uplink to a local Forscene server for uploads during IBC. Forscene will ingest all of IBC TV's live feeds throughout the 12 hours of live programming each day. The Forscene server will take the live feed from the EVS server and automatically create proxies in the IBC TV Forscene account.
Clip names and other metadata will be added at the point of ingest into the EVS server so that content will be searchable in Forscene. From there, authorised exhibitors and broadcasters can use Forscene to view and select proxy material that they would like to use in their own programming, and IBC TV will deliver the high-resolution material.
With this setup, local news outlets, trade press and exhibitors can repurpose IBC TV material to create news stories or promotional items. Once the show has ended, authorised users can log in to the Forscene account and follow the same process to access and reuse content throughout the year.
In addition to expanding access to IBC TV programming, IBC will also use Forscene to view entries and judge the IBC2014 Awards.
These awards recognise how tools are used to solve real-world puzzles and help media organisations to be more creative, more efficient, or better able to reach audiences - much as Forscene is doing for IBC.
Each entrant will upload the high-resolution version of their submission into the IBC Awards account in Forscene. This will be done using Forscene's web upload functionality over a standard internet connection, from any location, without the need for special equipment. Entrants will be given upload-only access to this Forscene account – so they cannot view each other's entries - ensuring privacy and security.
Various IBC representatives across different geographies will then use Forscene to access the entries - in both proxy and high-resolution form - to perform quality control, admin review and judging. Finally, Forscene will be used to deliver the original source material to a London post house for production of video elements for the awards show.
The article is available in BFV
here
.
(IT/JP)
Top Related Stories
Click here for the latest broadcast news stories.