Broadcast News
17/02/2014
Cable-Free Video Production With HHB's Timecode Buddy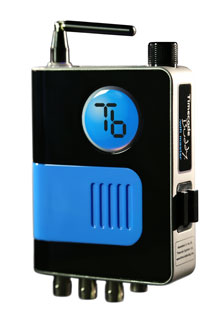 Any video or film location production that involves more than a single camera will benefit from the adoption of the technology offered by Timecode Buddy. This system provides three core functions; a super accurate timecode clock generator, a robust multi-channel wireless link for syncing recorders and a WiFi data link for sharing timecode and production metadata with iOS devices.
Timecode Buddy allows multiple video and audio recorders to be continuously timecode locked without the need for cables. The master clock can originate from either one of the recorders or generate from a Timecode Buddy module. Further, the system's WiFi data link supports the integrations of iOS devices, such as Apple iPad and iPhones, into video production. Timecode Buddy offers a free iOS App that provides a display emulation of a timecode clapper board. The system is also compatible with the industry standard MovieSlates iOS App, which supports extensive management of production metadata such as shooting logs and notes.
Timecode Buddy was developed in the UK by a team of experienced video production professionals who understand the complexity and challenges of location video production. As such, the system supports the latest trends of HD video and the electronic management of production metadata. On location, Timecode Buddy improves productivity by ensuring all devices are accurately synchronised without the need for cabling.
This technology also provides extensive tools that rationalise the later stages of the production, with all material sharing a common timecode reference. The addition of comprehensive metadata helps to simplify and speed up the review of rushes and 'media ingest' for post production.
The system's compatibility with the Movieslate iOS App and Adobe Prelude Live Logger app opens up the possibility of using the internet to further enhance efficiency. For example, MovieSlate's reporting function enables users to easily email metadata and shooting logs directly from remote production locations to the post-production studio. The Adobe app, on the other hand, allows users to export metadata logged on Prelude Live Logger on location directly into Adobe Premiere Pro CC or Adobe Prelude CC software. This not only significantly speeds up logging and editing, but also ensures a better quality of content notes.
The Timecode Buddy product range is made up of three modules: the :wifi master, :mini tx (transmitter) and :mini trx (transmitter/receiver), as well as a comprehensive range of brackets, interface cables and powering options. The modules are all compact and designed to mount on cameras or production bags.
A typical system costs under £2,000, and would include a single :wifi master, multiple :mini trx modules. Several iOS devices and Apps are also needed. Even non-timecode devices such as DSLR cameras can be integrated, with a working practise of recording a few seconds of rolling timecode at the start and end of each video shot.
Timecode Buddy uses a robust and licence free ISM BAND wireless radio signal to transmit the master timecode 'heartbeat', which keeps the receiver module's sub-frame accurately synchronised. The technology supports all of the popular variations of SD, HD and D3 timecode. These modules are designed to withstand the rigours of location production and weather. All of the timecode and power connectors are industry standard.
Timecode Buddy has proven popular on an array of video productions, including reality TV production, which typically involves awkward locations and an extensive number of video and audio recorders. Ensuring all devices are correctly synchronised and detailed metadata is captured on locations is a massive benefit during the post-production stage. Timecode Buddy is equally suitable for quick turn-around productions such as daily TV serials.
Timecode Buddy's capabilities and engineering excellence was recognised by the International Association of Broadcast Manufacturers (IABM) who selected the WiFi Master module as the winner of the 2012 IABM Peter Wayne Award for Design & Innovation.
For further information on Timecode Buddy contact HHB Sales on +44 (0) 020 8962 5000 sales@hhb.co.uk.
Read the article in the online edition of RFV
here
.
(IT/JP)
Top Related Stories
Click here for the latest broadcast news stories.