Broadcast News
15/07/2014
Quality Of Lighting Becomes Ever More Crucial (Pt 1)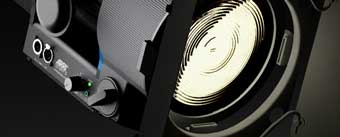 LED lighting is a huge technology milestone, just made for the workflow age: George Jarrett looks at the significant EBU development of TLCI, and talks to ARRI and Rotolight about the commercial realities.
With LED Lighting so popular in all forms of production there had to be a means - a metric - for measuring colour appearance on screen, wherever lighting for accuracy is the goal. The onward cost of unwittingly using cheap and nasty lights does not bare thinking about.
The responsibility for cracking this gigantic mathematic challenge fell on Alan Roberts and Per Böhler, the co-chairs of the EBU LED Lights Project Group set up back in November 2012, and now close to publishing and closing once colourists have looked at the scale within the TV Lighting Consistency Index (TLCI) that would present them with a numbering structure. This will go something like: above 85 you do not need to do anything much, above 70 the colourist will find it easy to make the images acceptable, above 50 the pictures are acceptable most of the time on most colours, below 25 and it is hands in the air and plenty of swearing.
In effect, the EBU Technical Committee wanted a recommendation designed to give technical aid to member broadcasters who need to either assess new lighting kit or re-assess the colorimetric quality of lighting in existing TV production situations.
It is likely that the TLCI (EBU Tech 3355), as it now exists, will be ratified via a special SMPTE group.
From the off, Roberts decided to ignore the International Commission on Illumination (CIE) because it 'does not delete'.
In a backgrounder the EBU stated: "The introduction of high efficiency LED lighting has given rise to a number of unintended and possibly expensive consequences for both TV and film production. Studies already undertaken show the lighting industry colour-rendering index (CRI) to be inappropriate for television because of the floating white point."
Taylor reported: "The TLCI is gathering momentum. I had a meeting to help manufacturers in their quest to get good event lighting installed in venues. Also, Osram is now using TLCI in its LED manufacturing in California and Hungary and Litepanels consulted on getting their new lights tested.
"I also had a call recently from Bowens (studio stills lighting) saying that it has problems selling kit because customers are demanding to know the TLCI value, and don't want to hear about CRI values. Talking of the CRI, I now know how to make a new standard to replace it.
"I'm holding off only because I have not been formally approached as yet. It would be the GLCI (General Lighting Consistency Index) and would be a very close pairing with the TLCI, for obvious reasons," he added.
The CRI that we have today would assess the performance of a luminaire directly, while the TLCI software mimics a complete TV camera and display, using only those specific features of cameras and displays that affect colour performance.
Users would just require a spectroradiometer to measure the spectral power distribution of the test Luminaire, and a PC on which to run the software analysis program and perform the calculations.
"If someone quotes CRI values, ask which version they are using," said Roberts. "We now have fairly concrete evidence that the metric we have in the TLCI is accurate for around 90% of measurements."
Roberts and Böhler have been working on a "proper spectro-radiometric calibration standard," and Roberts reported that he had uncovered the big problem of non-linearity in silicon sensors. Having included the compensation in his own software, he has authored a short paper on the problem. "I've found non-linearity in every spectro-radiometer I've met yet," he added.
To push the issues into the commercial realm and discover how LED Lighting is impacting on budgets, workflows and craft skill groups, we spoke to ARRI and Rotolight.
Asked what LED systems add to the design equations in a traditional film and TV lighting company, Mike Wagner, Product Manager, Lighting with ARRI Inc said: "When designing our LED lights, some of the key things we focused on were 'tune ability', ease-of-use and familiarity, light quality, and colour quality.
"Tune ability is the primary feature of the L-Series (LED Fresnel) line of products. It allows the user to quickly change colour temperatures, green/magenta point and even select vivid colours with just the turn of a few knobs. This flexibility and versatility give our users a much greater benefit than just energy efficiency. At the moment, only LEDs give us the ability to have this level of tune ability," he added.
The user expectations of directors, producers, cinematographers and postproduction workflow specialists are very simple. "They expect the same level of quality from our LED fixtures as they do from our HMI or tungsten fixtures - quality of design, robustness, colour and light field," said Wagner.
On the issue of setting measurement standards, made current by the publication of the EBU TLCI, Wagner said: "Users expect ARRI products to be professional grade fixtures - and they are. Standards are very important because they give end users a quick way to evaluate a product.
"During the testing of our LED fixtures, we look at as many different standards as possible to see how the product performs. We are always searching for new standards as well. Currently, those we test against are CRI, CQS and TLCI. We perform well on all of these metrics," he added.
The CRI standard has been around for nearly half a century, and said to use the average value of the errors until re-issued in 1995; and the fourth power average paid more attention to the colours that are the worst. Are the standards missing anything?
"I think it is important to remember that there still is a need for CRI," said Wagner. "It is a standard based around how the human eye perceives colour and still has great value in the general lighting market. But there are still many ways to 'trick' CRI into being higher than it should, even if it is only for the eye.
"It was only when more discontinuous or narrow bandwidth sources (like LEDs) came into our industry that CRI became inadequate. Because of these discontinuous spectrum sources, we need a better standard for more accurately showing how the light from a fixture will appear to a camera (digital or other). TLCI is a good example of this and perhaps there will be others," he added.
What is the application potential for LED lighting (in production) going forward? Perhaps other applications, like venues, will see the best of the technology?
"LED technology is here to stay for a good period of time. The advantages of energy savings, low forward heat, form factors and advanced features like tune ability will allow professionals to make creative decisions faster and with less work," said Wagner.
"It will save time and therefore money - those two savings usually allow a technology to be successful. TV stations and other permanent installations might see the most benefit from an energy savings point-of-view," he added.
George's article is available in BFV
online
.
(IT/JP)
Top Related Stories
Click here for the latest broadcast news stories.