Broadcast News
08/11/2018
Rotolight Anova PRO 2 Revolutionises Studio LED Lighting In 2018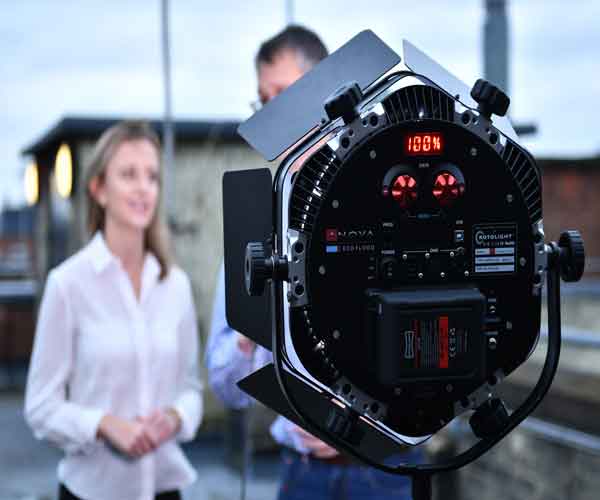 The Rotolight Anova PRO 2 is the latest innovation from Rotolight who offer a range of LED solutions for on-camera ENG, on location and in studio productions.
Entering the market in early February, the Anova PRO 2 has become light of choice for cinematographers, DoPs and camera operators across the world. The fourth generation of the award-winning Anova studio light, the Anova PRO 2 has continuously redefined the standard for professional LED lighting both in studio and on location; delivering power without compromising on functionality or versatility.
The Anova PRO 2 has already made a considerable mark on the industry, with its accolades to date including Best of Show from Studio Daily at NAB 2018, Gear of the Year from Pro Moviemaker and most recently, Best Product of 2018 from Videomaker.
Available in three model variations depending on use, the Anova PRO 2 offers fully tuneable colour temperature (3150-6300K) and dimmable brightness with a clear, accurate display. Rotolight's lighting products are the first lights to include both a continuous LED that is flicker-free at any frame rate as well as High Speed Sync flash functionality - ideal for hybrid shooters. Delivering an incredible 10,700 lux at three feet, the Anova PRO 2 is one of the brightest lights ever launched in its class; 70% more powerful than its predecessor. With an industry-leading power to consumption ratio, the Anova PRO 2 also reduces operating costs in studio and provides unrivalled battery performance on location, consuming only 72W.
Packed full of innovative features, the Anova PRO 2 was utilised by director of photography, Chris Yacoubian, for the tenth series of Dancing on Ice to help underpin the show's dramatic new look after a four-year hiatus. With entirely cool-running LEDs, the Anova PRO 2 was perfect for working with ice, but also, as a result, reduced the cost of powering air conditioning units and minimised the number of makeup touch-ups required for the talent. Mounted on custom-made hex rings, Yacoubian took advantage of the Anova PRO 2's unique circular design to create a visually striking lighting setup that was also shown in-shot as well.
"We wanted something new, fresh and original for the relaunch of Dancing on Ice, something that was visually different and interesting," said Yacoubian. "I saw the Anova PRO 2 clustered together and that just sparked my creativity."
Delivering outstanding colour reproduction (CRI 96, TLCI 91) and a naturally soft output, the Anova PRO 2 has also established itself as a key asset in news studios too. Producing flattering skin tones for live broadcasts, the Anova PRO 2 is the light of choice for London's first fully 4K TV studio, Celebro, who provide a turnkey platform for broadcasters such as MTV and BBC to go on air. The Anova PRO 2 ultra-wide model is also well-equipped to evenly light green screens for chroma key. The addition of a RJ45 port also minimises the impact any faults have on your lighting setup in studio.
"The standard 5 pin DMX is great, but the problem is you end up with massive cables across your ceiling and if one light fails, you're going to lose all of them," admitted Wesley Dodd, CEO of Celebro Media Studios. "Using RJ45, every light can be connected independently, and you can run it through a standard ethernet socket that you're likely to have already, so it's easy to set up and is a fraction of the price."
www.rotolight.com
This article is also available in the November edition of Broadcast Film & Video
here
.
Top Related Stories
Click here for the latest broadcast news stories.