Broadcast News
14/10/2014
Rotolight Scores Highly In TLCI Lighting Test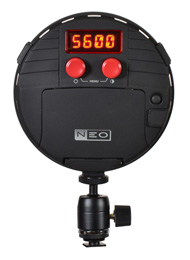 The Rotolight LED Lighting range was recently put through its paces by former BBC Research Engineer and colour science expert Alan Roberts, developer of the Television Lighting Consistency Index (TLCI), fast becoming the industry standard for gauging the quality of broadcast lighting.
The Rotolight ANOVA Bi Colour V2 studio/location LED light and soon to be released Rotolight NEO on camera light both placed in the top category with scores of 86 and 85 respectively, tested at their midpoint (4500K). According to the TLCI scale, a score of 85 or higher as achieved by Rotolight is regarded as ideally suited for professional television/broadcast use with "errors so small that a colourist would not consider correcting them".
The TLCI index, which has now been adopted by the European Broadcasting Union (EBU), scores lights in five categories ranging from the poorest quality (0-25) where according to the scale "colour rendering is bad and results may not be acceptable for broadcast," up to the highest category (>85). Results are published by the Guild of Television Cameramen at: www.gtc.org.uk/tlci-results.
Rod Aaron Gammons, Managing Director of Rotolight, said: "Rotolight's multi award winning LED Studio, Location and on Camera lighting products have rapidly become the leading choice amongst broadcasters and cinematographers around the world, and these independent TLCI results confirm the quality and colour accuracy and quality of our British-made lighting products, designed for the most demanding of professionals."
The need for quantifying the quality of lighting for the broadcast and film industry is becoming paramount. As lesser quality lighting systems are entering the market, more attention is being paid to the problems of correct colour performance, especially when mixing sources. Colour Rendering index or CRI has been the accepted standard for years and was originally developed for measuring Tungsten lighting, but it became apparent that CRI was particularly unreliable as a measure of LED colour accuracy.
CRI is a metric of the human eye and offers little about how a light source might render colour on camera sensors. The human eye is very forgiving when responding to colour and continually adjusts to correct. Camera sensors don't have this mechanism and are designed to give a true representation of colour in what it 'sees'. The CRI result is broken up into colour bands, such as R9, that signifies 'saturated red' and is outside the gamut of a television camera – thus creating an unreliable result.
The Process in testing the TLCI is very similar to the CRI test, although focuses much more on the gamut of a television camera and uses the industry standard 'X-Rite ColorChecker Chart' as a key reference. When testing, the TLCI-2012 software samples the light source at particular colour temperatures (such as tungsten 3200K) and compares it with virtual readings of the 'true' colour temperature that has been pre-programmed and tests the results against the colour chart. As further comparison it also refers to a model of a standard camera response created from the averages of many commercial cameras.
The recently announced Rotolight NEO on camera and location LED light, which also scored in the top TLCI category, builds on Rotolight's multi-award winning LED technology used by industry leaders around the world including BBC, NBC, CNN, Disney and ITV to name a few.
It was developed at Pinewood Studios UK, after years of extensive feedback from leading cinematographers and photographers. Providing a highly versatile solution for run-and-gun news shooters, filmmakers or still photographers, it is easy to use and fast to set up, great on location or in a studio.
NEO's 120 LEDs offer full spectrum colour reproduction with an overall CRI=95 (Skin tone>98) and can be accurately dialed from 3150K to 6300K in ten degree Kelvin steps. It features an intuitive dual rotary encoder control system for rapid brightness and colour temperature adjustment in the field, and Rotolight's 'Dynamic Drift Compensation' for smooth dimming from 0%-100% with no colour shift. NEO can be powered by six AA batteries for up to five hours (or three hours at 100% power), AC adapter or D-TAP cable, drawing only 9W at full power.
Read the article in BFV
online
.
(IT/JP)
Top Related Stories
Click here for the latest broadcast news stories.