Broadcast News
15/07/2014
Quality Of Lighting Becomes Ever More Crucial (Pt 2)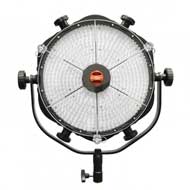 LED lighting is a huge technology milestone, just made for the workflow age: George Jarrett looks at the significant EBU development of TLCI, and talks to ARRI and Rotolight about the commercial realities (continued from Pt 1).
On the matter of the rapid acceptance of LED lighting by film and television production teams, Rod Gammons, founder and chairman of Rotolight said: "There are several key reasons for the increasing popularity: low power consumption, low heat output, compact size. And with the right systems: elimination of flickering, excellent colour reproduction, long battery operation for location shooting, lack of cables and extreme flexibility.
"We are moving into an era when technology enables us to streamline our workflow more than ever before and users are looking to utilise equipment that is portable, versatile and energy efficient without undermining the quality of the end product," he added.
"Studios are actively looking to cut huge energy bills and creative people require lighting equipment that is highly portable, mountable and versatile in terms of lighting quality."
So LED lighting is coming of age, and everything is achievable?
"The portability of a lighting source is ideal for any production, whether you're a small crew shooting a documentary in the far-reaches of the Amazon Forest or producing a multi-million pound feature," said Gammons. "This decreases the amount of workflow, which is key to an efficient and successful project. LED lighting systems enable you to light in places where you would never be able to with traditional lighting."
The majority of creative personnel are looking to improve efficiency in their workflow without undermining quality. "They are looking for natural quality in a light, in the case of a cinematographer and post-specialist they require lighting that will offer the best results, without having to use modifiers to increase pink or remove green spikes in the colour spectrum or even compensate for missing colour," said Gammons.
"The producer is looking for efficiency and low power usage in order to satisfy a budget. Good LED fixtures offer all these benefits, with fast easy setup, lack of flickering and good colour rendering," he added. "Our Rotolight ANOVA V2 lighting fixtures can be colour tuned electronically to exactly match any ambient lighting situation (the ANOVA Bi-Colour V2 can be accurately dialled between 3150K to 6300K), and they can be operated wirelessly from an iPhone or iPad."
On the matter of the EBU publishing the TLCI metric, and the wider marketing fact that many LED lighting companies sprang up offering questionable systems, Gammons said: "Early LED systems and cheap Chinese LED lighting fixtures suffer from poor colour reproduction, sometimes a green spike and lack of reds and lack of output. LED technology has evolved and so it is possible to make LED lighting fixtures with high output, excellent colour reproduction and continuous 'flicker free' output.
"With the advent of HD and 4K image acquisition, lighting has become super-important, and the quality and colour rendering performance of LED systems has become a subject of keen scrutiny," he said. "Surprisingly, cinemato-graphers openly discuss the effect of different LED fixtures on the artist's make up, as some LED systems don't reproduce skin tones well.
This is why very few LED manufacturers publish the 'R15' Colour Rendering figure. Rotolight has invested heavily in R&D to develop the phosphor colour chemistry of our LEDs to deliver virtually perfect skin tone reproduction (R15 CRI=98!), and each ANOVA V2 light is hand calibrated."
What is the eventual application potential for LED lighting (in production) going forward, in terms of replacing all or most of the light sources we have trusted in for decades?
"We believe LEDs will replace virtually all production light sources in the future. There are so many benefits from great quality modern LED fixtures," said Gammons. "At Rotolight we have deliberately tried to think 'outside the box' and come up with innovative, unique technologies to ease future workflows and inspire filmmakers. For instance, we created a lighting control APP, ('Magic Eye HD') for iPad and iPhone, but the most original (patented) feature is the ability to use the iphone or iPad camera to measure and store location lighting, and then automatically reproduce it back at the studio – a real time saver for teams working on chromakey shots.
"Never before has our industry faced such challenges - convergence, up-scaling, new delivery platforms, mobile, online, broadcast, VOD.   However, common fundamentals are still based around the quality of content production, and as 4K rolls out, the quality of lighting becomes ever more important," he added.
*Alan Roberts' case study Linearity in silicon light sensors starts with the assertion: "Non-linearity is not a problem in most usages, where a non-linear response can be a benefit, but in spectroradiometry, where actual light levels must be measured precisely, it causes great problems."
George's article is available in BFV
online
.
(IT/JP)
Top Related Stories
Click here for the latest broadcast news stories.