Broadcast News
13/12/2017
LED Lighting Finally Kills Off Tungsten & HMI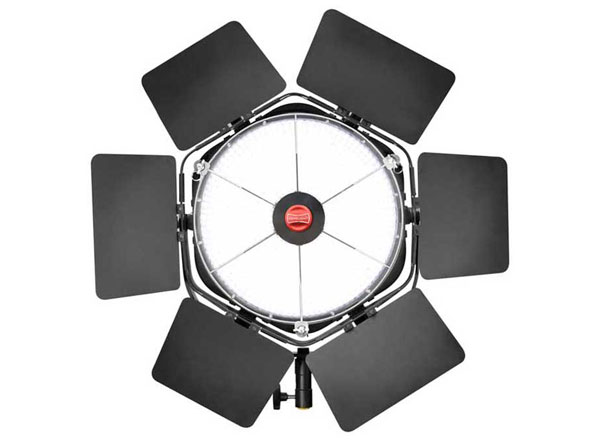 Astounding colour reproduction: George Jarrett witnesses perhaps the best product launch of the year as Rotolight demonstrates the Anova PRO 2.
The BAFTA-fronted albert consortium, all about greening the screen, would have loved the launch of Rotolight's Anova PRO 2 – for its 72W power consumption and much more, like the long LED life expectancy, and multiple other inherent cost savings.
Everyone who has tracked LED lighting from the early days, when NAB was littered with Chinese companies offering LED lamps, will love the 70% better brightness (10,700 Lux at three feet), quite astounding colour reproduction, the organic special effects elements (minus fluctuation), and the remote trigger that works up to 200 metres away, even through thick concrete walls. This is based on a built-in Elinchrom wireless flash receiver. The jump in quality is equivalent to a switch from Prosecco to top brand champagne.
Rod Gammons, the Chairman of Rotolight, said: "We make our own LEDs to a Colonel Sanders like secret recipe. We get this really tightly controlled colour quality, and we know that the phosphors interact.
"The average life of our LEDs is between 70,000 and 100,000 hours," he added. "The Anova PRO 2 gives you all of the classic gaffer's bible of all the classic effects."
Rotolight sell three versions of the Anova PRO 2.
"The standard model is a 50-degree beam angle. That is bicolour so it has the full colour range of 3150 Kelvin right up to Sony's direct daylight preset at 6300," he said. "We also do the same colour range in a wide-angle version offering 110-degree beam angle. And for some small studios where they shoot news and for certain photographers who want to work in black and white, what they really need is the best bang for the buck, so we sell a version that is 50-degree but fixed at 5600K."
All the LEDs are the same, but there is no bi-colour capability. Users do get about 10% better outputs. Gammons said that the most popular model would be the Bi Colour 50.
"It has the built-in cinematic SFX, and we developed a whole suite of them including lightning strike, fire, TV, gunshot, cop car, paparazzi, and cinema, and for cinematographers and video guys who sometimes want to do fade effects in camera, this has triggerable fades up or down a range of 12 seconds that they can program," he added.
The effects are branded as CINESFX. Rotolight has created its own (small) battery plus charger. This will power one of its earlier released AEOS lights for three hours, and would simultaneously power an AEOS and a NEO 2 light for 150 minutes. With the PRO priced at £1,249.99, we have to wonder if the lighting business is now totally LED.
"It is going that way, and it will go that way totally. Things like HMI bulbs are on the endangered species list because all the manufacturers of those bulbs are giving up, and Tungsten, as we know well, is very energy inefficient. Governments are ruling against it," said Gammons. "Most of what comes out of a tungsten bulb is heat not light."
The Anova PRO is approved for use with Phantom cameras. It is flicker free, although rolling shutter cameras could cause issues. It has zero recycle time. And being round it proves the value of following the sun, and makes square LED heads look rather dated. How much software is inside the lamp head?
"An incredible amount. It's got the benefit of everything we've ever done software wise plus a whole bunch of exciting new ideas, things like the exposure effects which we allow you to do within the space of one frame. The special stereoscopic stuff could feature somebody swinging a golf club; you could program it for every element of the shot," said Gammons.
Rotolight has developed special OEM custom solutions, and one of these involving photographic systems for catalogue companies raised the subject of activating directly over a control channel in DMX.
"We do hope that by the time the production versions of the ANOVA come out we will retrofit that feature as well, so full DMX direct control of every specific function – the SFX parameters, the colour temperature, the brightness, and the spread and triggering," said Gammons. "Doing all that over a control channel via DMX console would be fantastic for lighting engineers. At the same time you are using the second pair of DMX wires in the cable for sending data back to the desk to confirm what the light is set to. This is just like we do currently with the Elinchrom wireless trigger. That displays exactly what the brightness and colour temperature are set to, and can do it across 10 lights. You see what each light is doing."
Anova PRO 2 is both versatile (studio or location) and incredibly filmic. It was launched at one of Rotolight's big customers – Celebro Media Studios – and house CEO Wesley Dodd has ordered 200 of the PRO 2 lights for his recently open Moscow studio and upcoming studios in Washington and LA. The London studio is smothered in earlier Rotolight releases.
His is a 100% IP 4K UHD production hosting company targeting mainly foreign news broadcasters. He said: "The PRO 2 is the perfect light for working in the live TV environment. We are able to light people accurately, very quickly, saving us time, mistakes on air and a lot of money."
rotolight.com
Top Related Stories
Click here for the latest broadcast news stories.