Broadcast News
24/04/2017
Rotolight Announce AEOS LED Lighting Innovation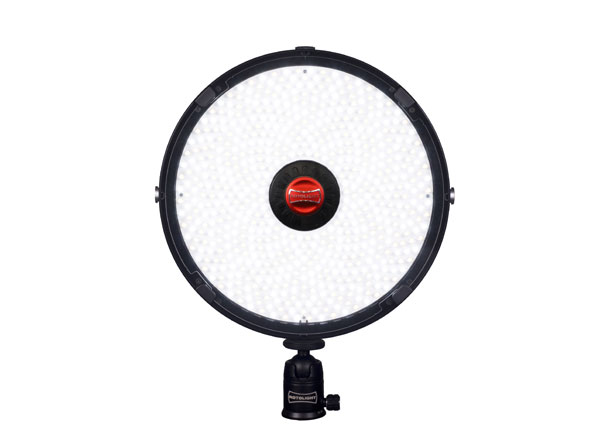 Rotolight has announced the launch of an industry-first location LED lighting innovation, AEOS.
Designed for portrait photographers and videographers on the move, AEOS is a bi-colour, location LED light with a unique 'ultra-thin' design concept. Weighing in at under 1.5kg and just 1cm thick, AEOS is one of the most portable lights on the market.
The AEOS delivers a powerful light output of 5,750 lux at three feet, but is also one of the most energy efficient LEDs on the market, able to run for three hours at 100% power on a single 95W battery – more than twice as long as the industry standard.
Rod Gammons, Chairman of Rotolight, said: "By being so portable and lightweight, the AEOS allows you to take a powerful LED light to locations and remote environments, enabling users to achieve shots that no-one else can."
AEOS is also the first location LED light to include integrated aluminium handles, which gives users the freedom to 'work the light' at angles and positions not otherwise possible. Breaking from traditional convention of LED lights in this form factor, AEOS does not feature a traditional yoke, which typically limits movement of the light to just 30-40 degrees of tilt, limiting control over light spill.
Instead, it includes a professional level ball head as standard, providing complete 360 degree rotation, and 200 degrees of tilt when mounted to a light stand. This makes it incredibly versatile and enables users to achieve lighting setups not otherwise possible with traditional light sources. The ball head is made from high-quality, solid aluminium and can support the full weight of the AEOS with battery and barn doors mounted, at any angle.
"The AEOS is exactly the light that filmmakers and gaffers have been crying out for. Integrating the handles into the actual light just adds that dimension of flexibility to it and allows users to move and manipulate the light quickly and easily in order to get that perfect shot. I can see filmmakers and photographers alike getting great use out of this new light," Stefan Lange, visual FX veteran known for films such as Batman, James Bond 'Spectre' and Tomb Raider, said.
AEOS features dual controls for brightness, and fast, tuneable colour on location thanks to the accurate colour temperature display. AccuColour LED technology delivers industry-leading colour rendering performance, eliminating the need for timely colour correction of skin tones in post-production.
Gammons continued: "The one thing that we've always understood is that photographers, videographers and filmmakers all work with light in so many different ways. However, they're often hindered by the size, weight or manoeuvrability of the light. We've developed the AEOS as a result of clear feedback from our customers that they wanted something powerful, but highly portable. The ease of use with AEOS allows photographers to be more creative and spend more time composing their perfect shot, rather than spending time on cumbersome lighting setups."
AEOS is also packed full of Rotolight's signature industry-first, patented features including:
• CineSFX provides a suite of cinematic lighting effects, such as lightning, fire and TV flicker
• True Aperture Dimming calculates and displays F-stop for a subject at a given distance
• Designer Fade provides custom fade up/down production effects
• High Speed Sync Flash (HSS) provides a powerful HSS flash with zero recycle time at 250% of the maximum continuous light output for traditional photographic workflows. This feature eliminates the need for users to buy a strobe, as it provides an all-in-one solution.
• AccuColour LED phosphor technology ensures the AEOS delivers exceptional colour rendering (CRI:96+) and scores in the highest category on the independently-tested Television Lighting Consistency Index (TLCI) The AEOS comes as standard with a full set of filters; two diffusion filters, a cosmetic peach skin tone diffusion to 'warm' the subject, and a magenta filter, as well as AC/DC power supply and ball head.
There is also a full range of optional accessories available, including a custom-made soft bag capable of holding up to two lights with barn doors, two batteries and two stands, as well as V-lock batteries, barn doors, rain covers, soft boxes, and a yoke for studio truss mounting. The AEOS will be debuted at NAB in Las Vegas – for a first-hand view of the ultra-thin location LED, visit Rotolight on stand C8843 (RTS Inc).
rotolight.com
Top Related Stories
Click here for the latest broadcast news stories.