Broadcast News
05/11/2019
Sony VENICE Deployed For New 'Downton Abbey' Movie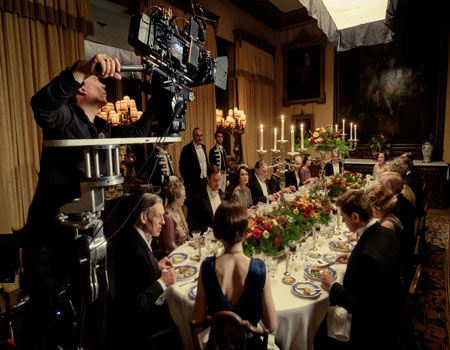 Sony has announced that its next-generation motion picture camera system, VENICE, was used for principal photography on the new 'Downton Abbey' movie, directed by Michael Engler, and produced by Gareth Neame and Liz Trubridge.
With its forward-thinking full frame sensor, impressive colour science and user-friendly operation, VENICE was chosen by Director of Photography (DOP) Ben Smithard to scale the TV series' drama onto the big screen through impressive picture quality and greater detail.
"VENICE was the only camera system that could deliver a larger and more detailed image to match the movie's enthralling storyline on the big screen," explained Ben Smithard. "When shooting, I discovered and started to appreciate VENICE's full potential. It's a beautifully designed camera from top to bottom - it looks great and is easy to use for me, my team, the DIT, the colourist, and everyone in post-production. Thanks to its full frame sensor, we were able to elevate Downton Abbey's action and emotion from the set onto the big screen."
VENICE, the versatile next-generation full frame motion picture camera, has been created for and with modern cinematographers in mind. It allows creatives to capture stunning visuals in almost any format, including full frame 24x26mm, Super35 and Anamorphic, with a maximum resolution of 6048 x 4032. At the same time, its usability, reliability and flexibility allow it to seamlessly match any filmmakers' shooting requirements and support them in bringing their creative vision to life. With VENICE, filmmakers can focus on capturing exceptional imagery and stories, rather than on the camera itself.
"With VENICE, I could fully concentrate on what I was shooting, rather than on how to operate the camera. Its complete range of internal NDs saved me a lot of time over the course of this film as I didn't have to change ND filters in a matte box. I also didn't have to worry about any colour shifts. When shooting scenes at the extended range of 2500 ISO, it cut in perfectly with the normal ISO of 500. No one will be able to notice the difference.mWhen it came to shoot challenging frames for the film, the VENICE never let me down. It performed well without any issues, wherever it was put – from being rigged on camera dollies, tower cams, cranes and even helicopters."
Compatible with ACES, the open, device-independent colour management, VENICE features creative options not only for cinematographers, but also for any post-production and colour workflow. "The use of ACES was proposed from the very early stages of the workflow discussions. VENICE and the X-OCN 16bit linear recording format made it very easy to implement the colour system and provided results which preserved the creative intend through the whole workflow process," added Pablo Garcia Soriano, Head of Colour at Mission.
Claus Pfeifer, Head of Connected Content Acquisition at Sony Professional Solutions Europe, said: "When we developed the VENICE we worked closely with our customers and industry partners, we wanted to offer creatives a next-generation, full frame motion picture camera system that would be able to meet the needs of any production. Our objective was to create a camera that can capture grand, vivid outdoor shots as effortlessly as intimate and emotional character-driven scenes. 'Downton Abbey' is precisely the kind of movie we had in mind when developing the VENICE, and we are excited for fans across the world to experience the magic of this iconic storyline on the big screen."
Following productions such as the highly anticipated 'Avatar' sequels by James Cameron and the upcoming political thriller 'Official Secrets' starring Keira Knightley and Ralph Fiennes, 'Downton Abbey' is the latest production to choose the next-generation camera system VENICE from Sony.
www.sony.net
Top Related Stories
Click here for the latest broadcast news stories.