Broadcast News
28/03/2018
Sony VENICE Makes UK Debut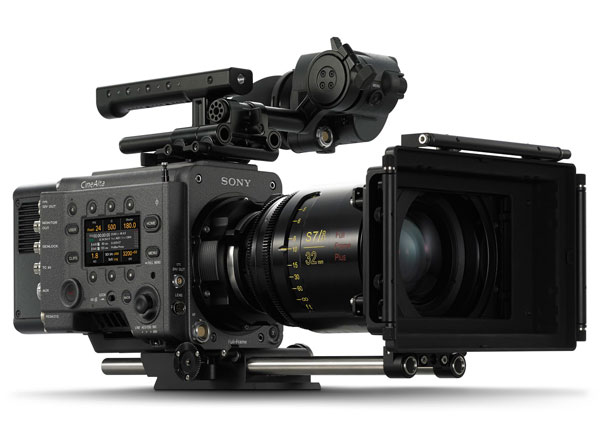 Sony specialist dealers CVP, Top-Teks and Visual Impact, have received the the UK's first consignment of Sony's next generation motion picture cameras – VENICE
The much-anticipated full frame system camera is already booked out on a string of high-profile shoots as the market embraces its creative potential and gears up for the spring shooting season:
Since its launch last year, VENICE has generated phenomenal interest within the global Cinematography community, establishing itself as a versatile, high-end shooting solution capable of delivering truly cinematic results.
With its forward thinking full frame sensor, impressive colour science and user-friendly operation, the latest CineAlta camera has been created by and for the cinematographer pushing the boundaries of large format image capture with exceptional picture quality.
Claus Pfeifer, Head of Technical Sales – Media Solutions, Sony Professional Solutions Europe, said: "VENICE demonstrates our commitment to developing tools that support directors, DOPs and cinematographers in bringing their vision to the screen. We were committed to bringing the camera to market before the Spring shooting season began, and the fact that the camera has already been specified for shoots is testament to the market appetite for a creative tool that promises natural skin tones, elegant highlight handling and wide dynamic range due to the newly developed Full Frame Sensor. We are proud that dealers have chosen to work with us to help the industry unlock the potential of this one of a kind camera."
Sony Specialist Dealer, CVP Group, was among the first European dealers to receive shipment of the camera for a high-end commercial shoot.
Jon Fry, Sales Director, said: "VENICE is the most exciting camera to emerge from Sony over the last five years and holds huge potential with cinematographers and the creative community. It signals a new and exciting era for digital cinematography and we've already received substantial interest. Like us, our clients recognise that VENICE's outstanding image quality combined with CVP's total commitment to customer support opens an excellent gateway to high-end, high-quality shooting."
Top-Teks who support Sony's full CineAlta range, including Sony's renowned PMW-F65 Super 35mm camera delivered its first two VENICE units to leading independent rental company, MovieTech, which are already lined up for a high-end project commencing in March.
Mike Thomas, Sales Director, also said: "The Full Frame Sony Venice has been well received by the community and the first tests have come back extremely positive. There is a want in the industry to try something new and have looks that inspires the users to create rather than tread the same path. Orders for the Venice reflect this desire with growing numbers of rental houses and owner operators getting in the queue for the latest high-end Cine Camera."
Rob Newton, Marketing Director at Visual Impact Group, added: "Sony's VENICE represents a significant milestone in the future of filmmaking, high end drama and commercials and is a fantastic addition to Sony's CineAlta family. It ticks so many boxes in terms of specifications and usability, with its full frame sensor offering a real USP for creatives. We've already delivered a unit to Video Europe and have bolstered our own rental fleet to cater for substantial levels of industry demand in large format, cinematic quality."
Equipped with an impressive full frame image sensor, the VENICE system is capable of capturing stunning visuals in almost any format, including full-frame 24x26mm, Super35 and Anamorphic. Intuitive and simple to use, VENICE is built-upon the established CineAlta workflow allowing 10bit XAVC recording directly to SxS cards or 16bit RAW, X-OCN on the attached AXS-R7 Recorder.
The cameras on-board PL + E-Mounts* and connectivity options allow the system to be tailored with almost limitless possibilities, optimising creative freedom and flexibility. Following market feedback Sony will also enable 25p recording in 6K Full Frame mode, as well as a new Dual Base ISO feature supporting ISO2500 with the launch of FW V2.0 in Summer 2018.
*E-Mount support launching with FW v2.0 in Summer 2018
www.pro.sony
(MH/LM)
Top Related Stories
Click here for the latest broadcast news stories.