Broadcast News
26/04/2019
Multichoice To Build New Playout Centre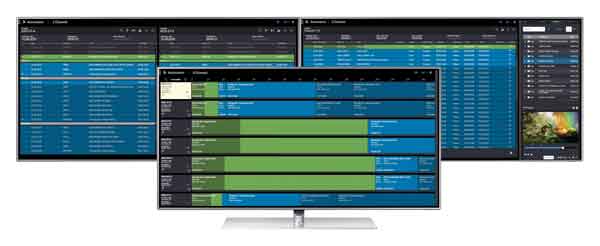 MultiChoice, the largest satellite broadcaster in Africa, has announced it is building a new playout centre.

The new facility is the first stage of the broadcaster's transformation from traditional video playout to IP transport and modular playout technology, providing for greater business agility, technical and operational flexibility and a reduction in the total cost of ownership (TCO). This allows for an improved consumer experience and ensures faster speed to market with new broadcast offerings.

Currently broadcasting around 150 video and 180 audio channels across six platforms to over 14 million subscribers in 46 countries across Africa, the new facility, located at the company's Randburg headquarters in a suburb of Johannesburg, is being implemented by Concilium Technologies, using Imagine Communications' software-defined microservices products and IP interfacing technology.

"We recognized a strong consumer demand for pristine content, but need to also provide for that demand in the most cost-effective and efficient manner," said Julian Ankiah, head of technology engineering at MultiChoice Support Services. "We needed to take advantage of the benefits of IP signal reticulation, while ensuring tight integration with our existing platforms, and particularly our business services. Imagine understood our commercial drivers, and showed how their technology could both deliver what we want now and reflect our chosen pace of transition to IP and software-centric platforms into the future."

Ankiah continued: "By introducing a dynamic technology platform and assembling an excellent viewing bundle, built around compelling and premium entertainment and sports channels, we are adding significant value for subscribers and television consumers."

Eckert said: "MultiChoice has a clear vision of delivering all its content across reticulated IP networks for high resilience and geo-diversity. They recognized that the Imagine microservices approach to software-defined functionality with inherent virtualization is a good foundation on which to build future systems. We look forward to continuing to work closely with MultiChoice, as we move through the stages of this transition."

The new playout centre provides complete playout functionality built around Versio™, a modular, microservices-based solution, hosted on the latest generation servers from HPE. It includes eight HD channels, with full redundancy on every channel. The architecture delivers the high performance and high-availability broadcast resilience MultiChoice demands with the bonus of added value functionality such as integrated graphics for channel branding. Also included in this project is the EPIC™ MV multiviewer, providing unrivalled monitoring power.

Versio modular playout and EPIC MV multiviewers are built on Imagine's Zenium™ microservices platform, which provides an expansive library of services that run on COTS servers for a compact footprint and excellent energy performance. Microservices are not only cloud-native, but also allow users to quickly add new functionality. As an example, a request from MultiChoice to provide mirrored storage in a different location could be met quickly and simply by only adding the required microservices.

Within the centre, existing SDI signals are transported as uncompressed video-over-IP, via eight high-density, all-IP-capable Selenio™ Network Processors (SNP), providing SDI/IP encapsulation and processing for IP/IP, SDI/IP, IP/SDI for up to UHD-HDR resolution formats. As business needs evolve, the SNPs enable MultiChoice to seamlessly transform the centre from a hybrid to an all-IP architecture, while delivering cost-effective support for next-gen workflows. Imagine's EPIC MV multiviewers provide MultiChoice with a highly scalable solution for probing IP streams and monitoring mixed signal types on a single canvas, while offering mission-critical system visibility across compressed and uncompressed IP workflows. IP signals are routed using Arista ethernet switches and management.
Top Related Stories
Click here for the latest broadcast news stories.