Broadcast News
11/09/2019
Pixel Power To Add Uncompressed IP Playout Capability To Its StreamMaster Playout Technology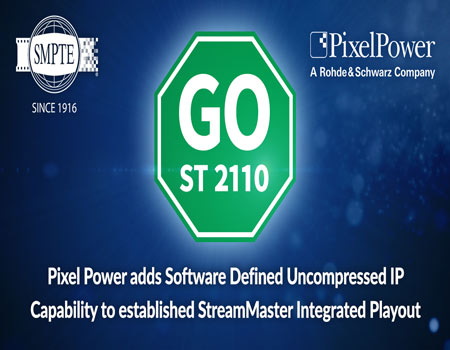 Pixel Power has announced it will be adding uncompressed IP playout capability, based on the SMPTE ST 2110 family of standards, to its already well established StreamMaster playout technology.
The development comes as a natural progression of incorporating new standards within its software defined technology platforms: StreamMaster Media Processing and Gallium Workflow Orchestration. Like all StreamMaster and Gallium functionality, SMTPE ST 2110 will be supported as software solutions whether on-premise or virtualized in a data centre.
"While we believe SMPTE ST 2110 is certainly the right long term direction, there is still mileage in standards such as ST 2022-6, since broadcasters like the similarity to existing SDI architectures,""said James Gilbert, CEO, Pixel Power. "Our new generation of playout and delivery products, including automation, graphics and branding are based on the StreamMaster Media Processing technology platform that can be easily updated using only software. The flexibility of IP-based, software defined playout and automation platforms are really showing their worth – that's why we are currently deploying them with major national broadcasters around the globe."
The SMPTE ST 2110 Professional Media Over Managed IP Networks suite of standards is a major contributing factor in the movement towards one common IP-based connectivity protocol for the professional media industries. The foundation for the SMPTE ST 2110 standards is Video Services Forum (VSF) Technical Recommendation for Transport of Uncompressed Elementary Stream Media Over IP (TR-03). The SMPTE ST 2110 standards suite specifies the carriage, synchronization and description of separate elementary essence streams over IP for realtime production, playout, and other professional media applications.
Pixel Power can be found at IBC2019 (Amsterdam, 13 – 17 September) in its regular position in Hall 7, Stand 7.A05.
www.pixelpower.com
Top Related Stories
Click here for the latest broadcast news stories.