Broadcast News
15/03/2019
Rotolight Secures A Bright Future With £5m Investment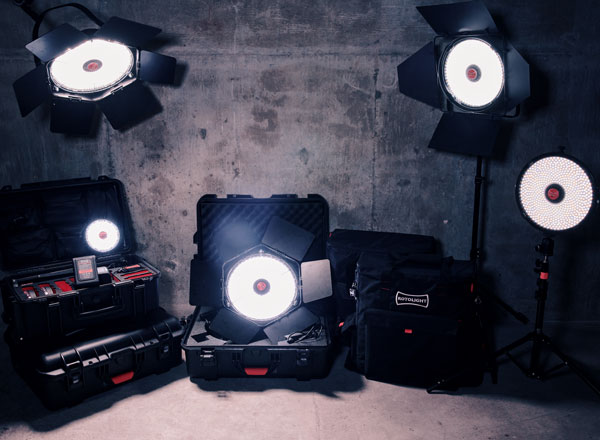 British LED lighting manufacturer, Rotolight, recently announced that they have obtained £5 million growth capital funding to aid in the continued expansion of the company's international and marketing activities.
The investment will also allow Rotolight to invest heavily in research and development to bring 15 more innovative products to market over the next five years.
Octopus Investments is the largest VCT investor in the UK; bringing significant expertise, a wealth of relevant industry experience and key contacts to help Rotolight deliver on its plans for continued growth.
In 2017, Rotolight launched the first ever LED to offer both an entirely flicker-free continuous output – as certified by Phantom Cameras – as well as High Speed Sync flash capabilities. This meant that creatives no longer had to purchase different setups for video and stills; a philosophy that Rotolight was first built from with the first RL48 eleven years ago. Since then, Rotolight have been consistently recognised for their technological excellence, and have quickly become the most highly awarded LED lighting brand to date; most recently the Anova PRO 2 studio light was awarded Best Lighting Product by Videomaker, a Product Innovation accolade from TV Technology and Best Lighting Innovation by Pro Moviemaker.
"We are delighted to secure Octopus as part of our team for what will be a very exciting time ahead; delivering on our ambitious plans for growth and developing products that change the way creatives work with light, giving them the ability to be more efficient in their work than ever before," said Rotolight CEO, Rod Aaron Gammons. "Octopus bring a wealth of expertise and added value which was very important to us, and really understood and bought into our vision for the future."
Throughout their range of on-camera, location and studio LEDs, Rotolight has introduced numerous industry-first features that have revolutionised the way creatives of every skill level work with light. Among these is the suite of built-in customisable lighting effects allowing users to create realistic FX that can emulate fire flickers, muzzle flashes, lightning strikes and more at a moment's notice. Director of Photography, Tom Paton, who used Rotolight products on the set of his fourth feature film, 'Stairs', said: "Whilst we still put the muzzle flash in post, the Rotolight NEO 2 created the hot point and the fall-off for our gunshot sequence. It's cost efficient, and if you're not spending lots of money on post you can spend it on set!"
2018 saw Rotolight garner nine more accolades, and 2019 looks to be even more thrilling. As part of their expansion, Rotolight has already announced that they are bringing on the former MD of Dixons and CEO of Jessops PLC, Christopher Langley, and Martin Wood, formerly of Tetley Group and Hozelock Group will be joining the company board of directors, as chairman and chief financial officer respectively. Alongside the investment and expansion, Rotolight will continue to harness the evolving power of LED technology, promising bigger, brighter and better solutions than ever before.
www.rotolight.com
This article is also available in the March 2019 edition of Broadcast Film & Video. Available here.
Top Related Stories
Click here for the latest broadcast news stories.