Broadcast News
15/11/2019
Rotolight Titan™ X2 - Ground-Breaking LED Softlight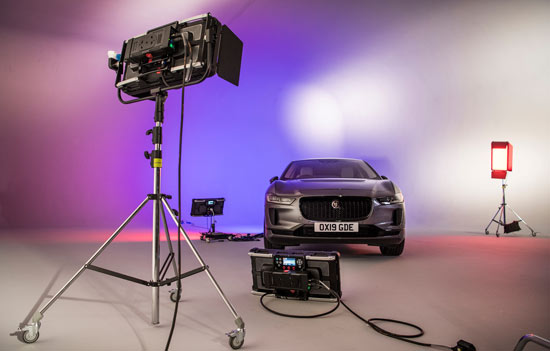 BFV speaks to Rotolight about the Titan™ X2 which redefines the standard for cinematic lighting.
The Titan™ X2 uses state of the art RGBWW technology to provide unparalleled light output, outstanding colour accuracy for gorgeous skin tones, and a suite of industry-first features designed to enhance the creative possibilities of lighting professionals.
It is said the word Titan originates in Greek Mythology and means "Giant"; in the Oxford dictionary it is defined as "a person or thing of very great strength, intellect, or importance". The Rotolight Titan™ X2 is living up to its name. There are some really exciting features which we would like to dive straight into. This edition looks at product breakthroughs in 2019, even though the Titan™ X2 was late to the table, it's been worth the wait. How long have you been working on the research and development?
We've been developing the Titan™ X2 for over three years now; working to perfect each feature to provide lighting professionals with a product that truly is ground-breaking. The Titan™ X2 is definitely living up to its name, not just in its power output as the brightest 2x1 soft light ever made, but also in its innovative functionality with a built-in suite of CineSFX™ utilising the Titan™ X2's RGBWW capabilities and first-in-class diffusion technology.
Let's look at some of the game changing features, SmartSoft™?
SmartSoft™ is our patent pending diffusion technology and it's the first time this functionality has ever been seen on a light of its kind. It allows our users to electronically adjust the diffusion, focus and spread of the output; no softboxes or gels needed. It completely transforms the light, making it even softer to allow users to achieve the look they want.
Something operators will love, music to their ears, no need for a manual, can this be true?
Lights are like supercomputers now; they are capable of so much, yet they often have small displays and complex submenu systems. One of the biggest pieces of feedback we had early on in development was that Titan™ needed to be easy to put into action. We did a lot of homework and knew it was imperative to make the user interface as simple and intuitive as possible. So, we opted for a toughened touchscreen display – the first on a light of its kind – and designed a user interface that can be navigated easily, even in the midst of a hectic set! Ease of use was always at the forefront of our mind, with key features only a touch away.
You have squared the circle, Rotolight's first light with corners, what are the benefits?
We certainly haven't abandoned our signature round design, but there are definitely benefits to having a 2x1 with this shape. Most importantly, it means you can easily stack multiple units into arrays to create large sources of soft light, and it's also an ergonomic shape for studio and truss applications.
This was a big move for Rotolight as we're well known for our unique circular design on our existing range of LEDs, but the 2x1 format of a lighting fixture is an incredibly popular format of light to have on set, but we knew we could deliver more than what was currently available; something really special.
Also time saving for operators, once the light is fixed, is to possible to add filters and special effects without touching the light again?
The Titan™ X2 has five lighting modes: CCT, RGBW, HSI, XY and Filter, which unlock endless possibilities and allows for full control over the light's characteristics. Titan™ has one of the largest filter libraries, with over 1400 available at the touch of a button and an extensive range of customisable CineSFX™. All of these modes and effects can be adjusted locally, through wired/ wireless DMX and with Bluetooth and LumenRadio control coming soon.
How about transport, does it come with a flight case?
Absolutely – the Titan™ X2 is designed to be portable for our users. There is an optional flight case and a soft carry bag, both of which can accommodate the yoke mounting options too. The very design of Titan™ allows it to be transported easily, with four integrated aluminium handles making it easy to carry and reposition no matter where you are.
What was the feedback like at IBC?
The feedback was incredible. It's really an amazing feeling to see people as excited about the product as we are. The industry-first SmartSoft™ technology was definitely the biggest talking point at the show, but when people got hands-on with the fixture they were blown away by the quality of the build and how easy it is to control as well.
www.rotolight.com
This article is also available on
BFV online
Top Related Stories
Click here for the latest broadcast news stories.