Broadcast News
03/09/2018
Signum Audio To Unveil New Bute Loudness Normaliser At IBC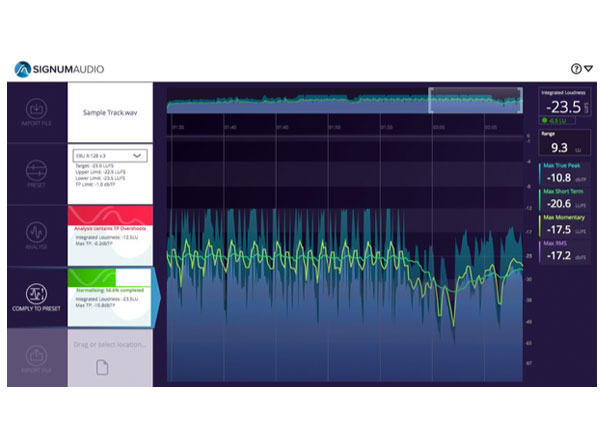 Scotland-based developer Signum Audio is to unveil its new Bute Loudness Normaliser at the upcoming IBC 2018 (Stand 9.LP30).
Bute Loudness Normaliser automates the task of loudness compliance with its intelligent algorithms, helping broadcasting and post-production specialists to meet tight deadlines.
With the Bute Loudness Normaliser, the user simply drags and drops the audio file into the straightforward interface, selects delivery preset, hits analyse, complies, and is left with a loudness-compliant audio file ready for submission.
The user interface offers a metering graph before and after normalising the file, with analysis of short-term and momentary loudness, RMS, true-peak and loudness range. Designed with transparency and precision in mind, the built-in true peak brick wall limiter has been optimised to catch any remaining overshoots. The detailed insight offered by the metering graph clearly shows the extent of true peak limiting and alerts the user to the areas of their audio that are non-compliant. Due to its intelligent algorithms, the Bute Loudness Normaliser normalises spot on to target even with the true peak brick wall limiter engaged.
An exhaustive selection of the latest loudness standards are built-in to make workflows smooth, including the latest revisions of ITU BSS.1770, EBU R128, ATS/C 85, OP-59, ARIB TR-B32, Atmos 7.1.2, YouTube, Apple Check, Spotify, Sony Gaming ASWG, PRSS, AES Streaming recommendation, TIDAL, Hulu, Netflix, Pandora - plus the ability to create and save your own.
The Bute Loudness Normaliser will come in 2 versions: Surround and Stereo.
www.signumaudio.com
Top Related Stories
Click here for the latest broadcast news stories.