Broadcast News
05/02/2014
NUGEN Audio Prepares For BVE 2014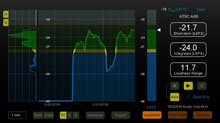 NUGEN Audio is to showcase a range of its products, including the new MultiMonitor software for loudness and true-peak monitoring, at this year's BVE show in London.
NUGEN Audio's Loudness Toolkit will be on show. The kit includes:
•
VisLM: Visual Loudness Metering Plug-In
- VisLM is a visual loudness monitoring tool that provides an ITU, ATSC, and EBU standard-compliant way to measure, compare and contrast loudness during production, broadcast and post-production, on the fly or for entire sections of audio.
•
ISL: Inter-Sample True-Peak Limiter
- ISL is an inter-sample true-peak limiter designed for controlling peak levels in audio signals from mono through 5.1. ISL measures inter-sample peaks and allows the user to define the true-peak limit of the audio output (rather than the more traditional threshold control at which limiting begins to take effect).
•
LM-Correct: Stand-Alone Loudness Tool
- NUGEN Audios LM-Correct offers automatic analysis and correction. LM-Correct is suitable for rapid, intuitive correction in situations where time is limited, providing an automatic method of rapidly conforming audio to current loudness standards.
•
MultiMonitor: Loudness and True-Peak Monitoring Software
- Presented for the first time in the U.K. to BVE 2014 attendees, MultiMonitor is a new loudness and true-peak monitoring software application. MultiMonitor offers up to 16 individual loudness and true-peak meters in mono, stereo, and 5.1 formats for up to 96 individual audio channels. MultiMonitor is standalone software for Windows® or OS X® that provides flexible, real-time monitoring in full compliance with CALM, ITU-R BS. 1770/1, ATSC A/85, EBU R128, and other global loudness regulations and standards.
•
LMB: Batch Processing Loudness Correction Tool
- For high-throughput applications, LMB is an off-line file-based loudness analysis and correction program designed for rapid assessment and correction of files for loudness and true-peak content to ITU-R BS. 1770- and EBU R128-based specifications. With a drag-and-drop interface and/or specific watched folders, LMB saves operator time by automatically handling the process of checking and conforming files to multiple broadcast criteria.
•
LMB MXF Option
- NUGEN Audio has launched a new MXF file-handling option for LMB that allows direct analysis of audio within the MXF container. The option introduces native MXF audio-handling that enables LMB to perform automated analysis and correction of audio in an MXF container while preserving all other data within the file. LMB can now analyse and correct OP-Atom and OP-1a operating patterns containing PCM and D10-encoded PCM audio data without first converting the MXF files to WAV format. With the ability to correct and deliver loudness-compliant audio in the original MXF format, the solution saves time and effort.
"Broadcasters throughout Europe are grappling with loudness compliance, which includes understanding where and how to integrate loudness tools in the broadcast chain," said Jon Schorah, Founder and Creative Director, NUGEN Audio.
"As the premier broadcast industry forum in the U.K., BVE 2014 offers a prime opportunity for us to demonstrate how NUGEN Audio's solutions can help assure loudness compliance without affecting the creative process of producing high-quality audio."
www.nugenaudio.com
(IT/JP)
Top Related Stories
Click here for the latest broadcast news stories.