Broadcast News
03/07/2015
Turning Up The Volume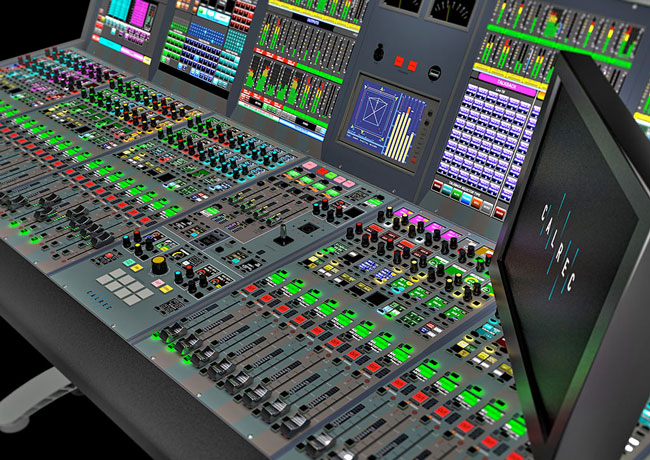 Picking up from Issue 225, we're once again looking at Broadcast Audio, particularly at loudness metering and mixing consoles – and how the industry is working to ensure the highest quality audio levels are being achieved for listeners...
We've all been there; sitting down after a long day to watch television. We might catch a few advertisements beforehand, of which we can hear fine, but then once the programme begins, we struggle to hear the actors' dialogue. So, we'll turn up the volume – only to have to quickly reach for the remote during an ad break and turn the volume back down as the audio is much louder.
In May 2014, the BBC found itself at the centre of a 'mumbling row' after viewers struggled to hear the audio in its highly-anticipated drama Quirke. This occurred just a couple of weeks after a similar row regarding the channel's airing of Jamaica Inn. Again, viewers struggled to hear due to poor sound, with the broadcaster issuing a statement to say a subsequent investigation found a mix of mumbling actors and problems with the audio track were to blame. Similarly, in January 2015, viewers complained about the audio levels of ITV drama Broadchurch.
Such complaints have resulted in organisations developing meters to ensure loudness normalisation, i.e. so adverts do not sound louder than programmes. Traditionally, measuring signal levels included Peak Programme Meters (PPM) and VU meters, but it has been claimed that these do not provide the measure of loudness needed to optimise the listening experience. In August 2010, the European Broadcasting Union (EBU) published its Loudness Recommendation EBU R128, informing how broadcasters can measure and normalise audio using Loudness meters. These meters take into account the audio spectrum, compression, duration, intensity and sound pressure to measure perceived loudness and volume consistency for listeners.
One example of a Loudness Meter is the LM1n by TC Electronic. The plug-in can run on any digital audio workstation and delivers content that complies with broadcasting standards such as ITU BS.1770-3, ATSC A/85, EBU R128, TR-B32 and OP-59. Features of the LM1n include a True-Peak Indication, which will flash if true peaks are present in the audio; Loudness Value, allowing users to choose a value to be shown from Loudness Range (LRA), Sliding Loudness 10 Sec, Max Momentary (M) or Max Short Term (S); while guiding arrows help users to remain compliant with the loudness standard selected, by indicating if the volume should be increased or lowered.
Last month, SBS Broadcasting, through its work with NUGEN Audio, was shortlisted for the IBC2015 Innovation Awards. With a nomination in the Content Management category, SBS is being recognised for its use of NUGEN Audio's DynApt algorithm to create a loudness-normalised workflow for film soundtrack adaptation.
SBS has worked to improve audio quality for broadcasting films and drama series within the guidelines of the EBU R128. When it comes to motion pictures, several challenges arise, such as how to preserve the quality of experience in terms of dynamic audio contrasts, as well as how to loudness-align content with advertisements or interstitials.
With this in mind, SBS selected the NUGEN Audio DynApt algorithm to address the issue. The solution analyses loudness levels throughout a piece of audio before controlling a configurable maximum difference between program loudness and average voice level. Working alongside Delta Sigma Consultancy and Minnetonka Audio, SBS created an anchor-based loudness normalisation workflow based on DynApt. This, in turn, enables the broadcaster to process a movie's audio for broadcast in line with a producer's original objective. Furthermore, the solution does not interfere with the audio if there is no need to do so.
While challenges do remain when it comes to Loudness, steps are being taken to standardise the issue. In the UK, for example, the Digital Production Partnership (DPP) sets out the standards that broadcasters and companies voluntarily agree to. In March 2015, it awarded Vidcheck with AMWA AS-11 DPP Certification. This confirms that a product has met the criteria outlined in the DPP Compliance Programme, and the AMWA Certification grants rights to manufacturers to make certain claims regarding the compliance of their products. Vidcheck's auto QC technology is integrated with many third-party systems used for transcoding, file delivery and workflow management, and the software takes advantage of self-correcting heuristic algorithms to modify original content by the minimum amount needed to ensure compliance.
With a view of industry-wide standardisation when it comes to audio, it is vital that products meet respective compliance requirements – such as mixing consoles. These not only combine, but can route, change levels, timbre and dynamics of audio signals and are used in many applications from broadcasting and film post-production, to recording studios and television.
Take the Calrec Artemis Light digital audio console, which was recently installed as part of an upgrade in Channel One Russia Worldwide's Moscow-based production studio. It not only ensures the television channel adheres to strict government standards for HD broadcasts, but also ensures broadcasts of the highest quality are delivered to viewers. The Artemis has 32 multilayer faders and comes equipped with Calrec's Bluefin2 and Hydra2 networking architecture. It allows users to produce multitrack HD programmes, change show memories quickly and connect two shooting areas to one control room over fiber.
There is also the new 688 Mixer/Receiver from Sound Devices. Making its debut at Cine Gear Expo 2015, the 688 is a 12-input production mixer with integrated 16-track recorder. It comes with 12 channels of MixAssist, eight outputs, digital mixing and routing, 92-kHz sampling, audio delay on both inputs and outputs, PowerSafe and QuickBoot. Using an algorithm, MixAssist automatically attenuates the level of inactive inputs and maintains consistent background levels, regardless of the number of open microphones. Comb filtering and phasing artifacts are also reduced by attenuating microphones receiving the same audio signal.
This article is also available to read at BFV
online
.
(JP)
Top Related Stories
Click here for the latest broadcast news stories.