Broadcast News
10/01/2019
Signum Audio Releases BUTE Batch Processor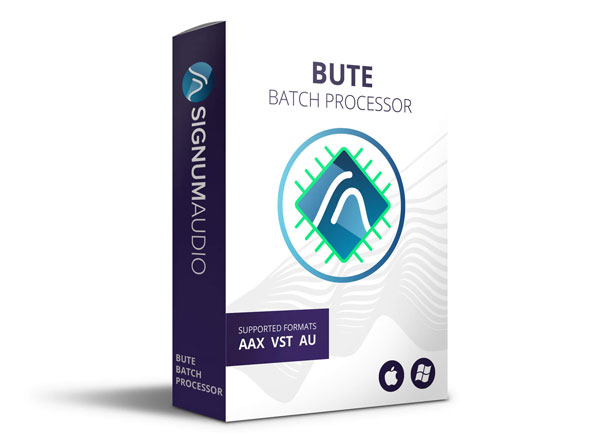 Signum Audio's new BUTE Batch Processor is a highly adaptable server-based solution aimed towards gaming studios dealing with vast amounts of dialogue and localisation.
Ideal for large projects, the BUTE Batch Processor is designed to be stable, reliable, performant and most importantly to deliver highest fidelity audio. It is highly configurable and can easily be integrated into an existing audio production pipeline, allowing thousands of files to be processed at once, outputting consistent versions that are compliant with the parameters set by the user. This saves considerable amounts of time.
The BUTE batch processor is perfect, for example, for dealing with vast amounts of dialogue and localisation, for dealing with audio assets from different sources, or for projects that need to be delivered to multiple delivery specifications.
FUNCTIONS & APPLICATIONS:
• Modular processing approach that allows for maximum parallelisation and therefore maximum throughput
• No limitations on cpu cores utilised for parallelisation
• Processing can be throttled to free resources for other task running on the server
• Robust design that can handle thousands of files at once
• Highest precision true peak and loudness metering
• Smooth and ultra transparent true peak brickwall limiting
• Highest quality distortion free linear phase resampling
• Presets for international broadcasting standards, online platforms, and diverse recommendations
• Detailed logging and reporting
• Configurable warning system for detailed loudness and dynamic range analysis
• Possibility to add pre- and post silence to processed files
Russ McMahon, from Signum Audio, said: "We are constantly striving to tune our products in to the needs of our customers to provide best in class software. The BUTE Batch Processor can be easily integrated into your existing audio production pipeline. Whatever the needs of your studio, BUTE can be tailored to fit your requirements. We provide on-going technical support and have a range of payment plans to suit your operation."
Colin Walder, Code Lead Audio & Localisation at CD PROJEKT RED, said: "Bringing the epic stories in a CD PROJEKT RED game to life requires the processing of hundreds of thousands of lines of dialog. Bute Batch Processor has the speed and stability to handle the quantity, and transparent audio processing that gives us the high quality we demand for our games."
signumaudio.com
Top Related Stories
Click here for the latest broadcast news stories.