Broadcast News
05/07/2018
BFV's Big Interview: LaCie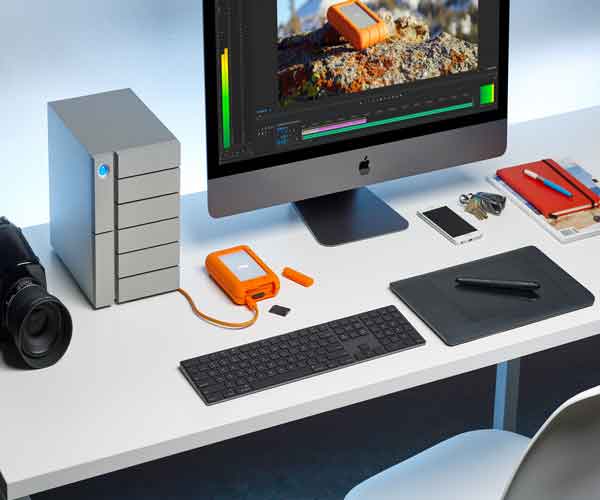 BFV talks to Stéphane Jamin, Channel Marketing Supervisor at LaCie, about how the company started and how its merger with Seagate has benefited the company.
Mr Jamin also tells us about the advantages of the LaCie Rugged RAID Pro, which the firm showcased at NAB.

Tell us a little bit about LaCie's beginnings and how the company has developed over the last three decades.
LaCie, originally named Electronique d2, was founded in 1989 by Pierre Fournier and Philippe Spruch. Creating high performance, innovative and yet well designed external storage was always part of LaCie's DNA. Almost thirty years of collaborations with world-famous designers made LaCie the renamed brand it is now. Philippe Starck, Christophe Pillet, Karim Rashid, Porsche design and of course Neil Poulton contributed to the design of many iconic LaCie products. But LaCie's success does not only rely on good design; it also stands for quality, performance and reliability. By developing the most advanced electronics and software, the expertise of LaCie In-house Engineering Team made it possible to bring the best products to life. Over the past 29 years, LaCie has consistently been first-to-market with innovative products. For example, LaCie was the first storage company on the market to implement the lightning-fast Thunderbolt™ technology and as such, now offers the largest Thunderbolt 3™ storage range to our customers.
With the merger with Seagate and LaCie taking place back in 2014, how has this benefited the company and what are your plans going forward?
Being part of Seagate was an exciting step forward for LaCie. In a competitive market, remaining small and independent would have been a challenge. By becoming a Seagate company it offered LaCie great development opportunities, whilst allowing our teams to remain creative and independent, keeping the "startup spirit", while being part of a huge worldwide organization. This now means that we are able to offer our users the best technologies from a wider portfolio and benefit from bigger engineering teams and more technology expertise. Thanks to Seagate, LaCie creates solutions that are more expandable and robust than ever before and we are continuously working on new designs and products that improve our users day to day life, such as LaCie DJI Copilot and Rugged RAID Pro, both products allowing new ways of working with storage on the go.
LaCie has worked with a lot of different designers throughout the years but most recently you have developed a great working relationship with Scottish designer Neil Poulton. What makes this partnership work so well?
We have a great relationship with Neil Poulton. He is one of the best designers we have worked with, understanding perfectly our needs and adapting to the changing customer requirements and new technologies. His imagination and unique style perfectly match our expectations on what the perfect storage should be.
You have been known for forward thinking products having developed Silverlining, the first universal disk formatting software for SCSI drives. How do ensure you maintain this level of innovation?
Our customers now expect more than just storage. They want solutions that offer them additional features and allow them to work more efficiently. We have recently launched several products than really improve their creativity, such as LaCie 2big Dock and LaCie Rugged Secure, and we are now introducing Toolkit with our latest solutions, a new software suit that will help them interact with their storage easily. Meanwhile, on the hardware side, supported by Seagate, we are exploring all new technologies and continue to listen to our customers and the creative, consumer and technology industries.
After recently showcasing the new Rugged® Raid Pro at NAB, how important is the Las Vegas show to LaCie?
Las Vegas is THE broadcast show in the US, which is attended by all of our professional customers. This show for us is the best opportunity to showcase our product ranges and to meet our users in this region, although we recognize that our technologies are used globally and as such have local teams across the world meeting our customers regularly both at other key broadcast events, on-set and in the workplace.
What does the Rugged® Raid Pro offer that previous generations of the Rugged® RAID solution have not?
The LaCie Rugged RAID Pro is thinner and lighter than its predecessor and thanks to a new design it's also bringing new features to the user such as with the integrated SD Card slot and the RAID is also configurable with the LaCie RAID Manager.
This article is also available in the June edition of Broadcast Film & Video. Available here.
More Archive Stories