Broadcast News
09/05/2018
BFV's Big Interview: Tyrell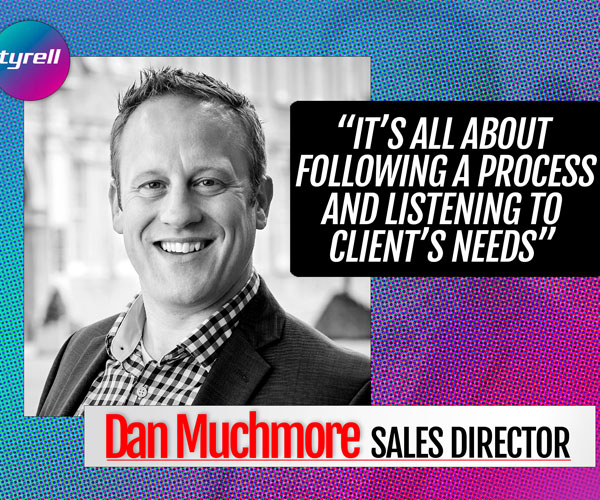 This month, Broadcast Film & Video talks to Tyrell Sales Director Dan Muchmore about their success at NAB 2018, the number of partners they invest in, and their plans for the upcoming Media Production Show.
What is Tyrell's position in the Industry?
Tyrell has been providing solutions to the Broadcast, Production and Live communities since 2000. Over the last eighteen years we have established ourselves as the leading provider of professional video, audio, graphics and storage solutions to the UK and Irish broadcast, Education, Post-Production and Corporate markets.
Tyrell specialises in understanding complex workflows and developing solutions that will enable your business to focus on the creative process, providing workflows that will enable staff to perform efficiently and empower the business to develop.
Our core skill areas can be put into three categories:
•File Based Workflows
•Voice Communications
•Signal Distribution and Streaming
What was the Tyrell take on NAB 2018?
NAB has been a profitable event for us in the past couple of years, not because of the hordes of UK and Irish visitors attending the show but instead the emphasis has been more about the relationship with current and new suppliers.
Over the last two years we have had a lot of brands taking notice of our business approach and seeking us to represent them. At NAB 2017 we confirmed distribution agreements with Intinor, a Swedish manufacturer of Contribution and Distribution solutions. At NAB 2018 we strengthened our contribution range by adding ABonAir to our portfolio. Tyrell will be distributing ABonAir's selection of wireless camera transmission systems in the UK & Ireland.
This year saw interesting developments from two of our main partners Avid and Clear-Com. Avid finally released their new MediaCentral Platform and did a technical preview of the forthcoming Avid|On Demand which will plug into MediaCentral. This excites us as it fits in with our vision of the SaaS future we are all looking towards.
Clear-Com launched their next generation IP communications card which is due for release in June. Although Comms is a dry subject, it's one that is loved and respected by those who rely on it. The current card, the IVC-32 has revolutionised how Comms are deployed locally and across geographic regions, so this new card, the E-IPA, is a beast, and we are only at the first generation of its capability. Overall, both existing and new brands give us an exciting future!
Also, NAB is a busy time for all Tyrell staff because we publish a series of 45 SyNABsis blogs which cover product reviews and news from the show –
www.tyrellcct.com/category/nab-2018/
.
Why do you partner with Clear-Com?
Tyrell started distributing Clear-Com in 2011, this was at a time when they relocated their manufacturing to the US and so needed to find representation in the UK & Ireland to help sell and support their product line. This was an interesting time for Clear-Com in that they had just learnt that they had been selected to provide comms for all the 'Sports Presentations' at every venue of the 2012 Olympic Games and so the brand was starting to benefit from some increased awareness in the market.
At the time we were very much only Avid focused and so it was an interesting step for both parties but not such a bold step as one would think. The same characteristics needed to design a broadcast or post production file workflow are those required to design a comms system. It requires the ability to think of the bigger environment and think of the process from A-Z. Whether it be file or voice, it's all about following a process and listening to the client's needs - a prime value of Tyrell's methodology.
Since partnering with Clear-Com, we have had the pleasure of installing some very large internationally distributed systems with the likes of Perform and SIS. It has been the IP technology developments with their IVC-32 card and their range of LQ 4wire and 2wire to IP converters that have made distributed systems across LAN/WAN and Public Internet that has made these and other workflows possible.
Who are your other partners?
Tyrell is invested in relationships with its partners, and we are particularly selective about who we represent.
In the Storage area we enjoy long and strong relationships with EditShare and Facilis, both of whom we have had strong start to the year with. Alongside Intinor for contribution we also represent LiveU, and we have recently supplied a lot of systems for marathon races, OBs and election nights. A growth area for Tyrell has been the increased desire for corporates and alternative broadcast events to capture, produce and stream their event themselves, bringing the production inside their organisation rather than paying others. We took on Livestream in 2015 but it wasn't until 2016 that interest really started to take off. The full list of our partners are listed on our website.
What's next for Tyrell?
We are currently in full post NAB mode, and the show marks the start of a process whereby the sales and pre-sales team are heavily involved in taking the products released, and new brands to market.
The Tyrell leadership team is now looking towards the Media Production Show, which is on in The Olympia in Kensington, London. MPS will be an important phase of our year, helping to give us momentum into the summer season. This two day event will be on Tuesday 12th & Wednesday 13th June, giving us a chance to meet new customers and connect with the industry. We always enjoy demonstrating what we can provide and doubtless there will be free stuff, so make sure to drop by for a chat at Stand 203.
This article is also available in the May edition of Broadcast Film & Video.
www.tyrellcct.com
More Archive Stories