Broadcast News
16/02/2018
Meet The Sigma Cinema Family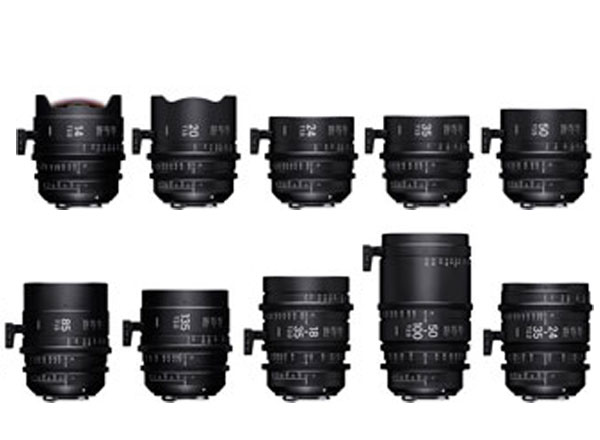 For well over half a century Sigma lenses have been a byword in the still photography market for a high-quality but keenly priced alternative to maker's own optics.
This venerable company has taken a sideways step into the world of cinema lenses, and has used all of its considerable expertise to create a brand new family of optics. Those looking to invest in a system of this kind need confidence that it will be fully supported and Sigma has certainly stepped up to the mark, displaying an entire family of products, including high-speed and full-frame zooms and primes, at the recent BSC show, all of them optimised for the latest digital movie making technology.
It was a massive demonstration of intent and made it abundantly clear to those not fully familiar with the name that the company is ready to take its place alongside the big boys of the cinema world.
This line-up of 10 lenses, ranging from 14mm to 135mm, uses the same optical sets as their still lens equivalents, with each and every lens in the system being given a comprehensive new housing. This is a key advantage, since the quality is tested and proven: witness the fact that Sigma's 135mm f/1.8 DG HSM has just picked up the prestigious EISA European DSLR lens award. There are three ranges in the new Sigma Cinema Lens System: an FF Zoom line that's ready for high resolution shooting, such as 6K and 8K, a High Speed Zoom line with a consistent T2 maximum aperture and a High Speed Prime line-up, ranging from T1.5 to T2.
Sigma's CEO, Kazuto Yamaki, said: "Many photographers and videographers suggested we develop high-quality cine lenses using our state-of-the-art technology – especially after we introduced the still photo version 18-35mm f/1.8. They asked us for the same glass, but in the cine style housing.
"We found the opportunity in the cine lens market because cine cameras have evolved toward a higher resolution, compact size and reasonable price, but the cine lenses had not been changed to that level. Therefore, we thought Sigma should do that to contribute to the enhancement of cine gear industry. We wish to develop the best gear for serious users. We had been working mainly for professional still photographers, but we realised many of them were shooting movies as well, due to the video functions in DSLR/mirrorless cameras."
The new Cine line-up has already received stellar reviews. "I really liked the 50-100mm," reported seasoned film editor Adam Garstone. "Sigma has produced an extraordinary lens for the price. Fabulous build quality, weatherproof, full electronic reporting of settings, fast aperture and brilliant image quality – I'm struggling to think of another cine zoom that gets anywhere close for £3899."
The combination of over 50 years of tradition and experience with a proven high-quality product and a highly competitive price should turn a few heads. In short, there's a new kid on the block and Sigma intends to be here to stay.
Advantages of Cine Lenses
Because of the extra engineering involved cinema lenses always carry a premium, while conventional still lenses can still deliver great quality. So why should you upgrade? Here's a list of the advantages that a dedicated cinema lens can offer.
• Compatibility: If lenses have been designed to have the same dimensions and feel, then it's quick to swap optics. Any filters used will be interchangeable, while such things as a follow focus will slot neatly into place.
• Stepless apertures: It's better to be able to change apertures gradually rather than have a noticeable change.
• Manual focusing: This is less noticeable than AF and quieter as well, and a longer focusing throw enables more precision.
• Consistent maximum apertures: The T2 maximum aperture throughout the Sigma High Speed Zoom line-up ensures consistency.
• Colour matching. Whatever lens is used the look remains the same.
• Less lens breathing. This means that the angle of view you achieve as you change focus remains the same.
sigma-imaging-uk.com
Top Related Stories
Click here for the latest broadcast news stories.