Broadcast News
12/10/2016
What Is Anamorphic?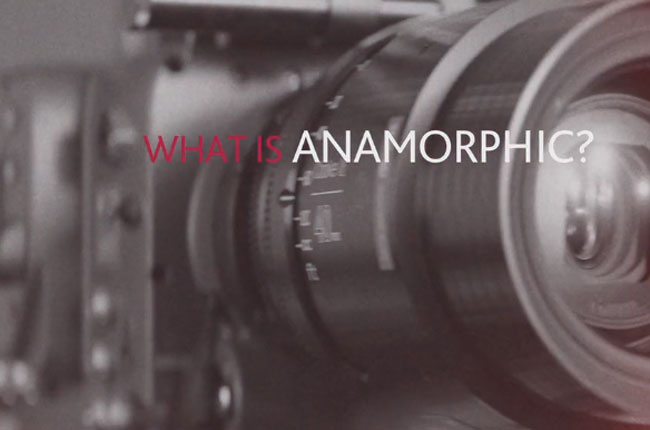 The word "anamorphic" and its derivatives stem from the Greek words meaning formed again.
As a camera format, anamorphic format may not be as popular in comparison to "flat" (or "spherical") formats such as Super 35 mm film shot using spherical lenses however, because most movie projectors use anamorphic projection format, spherical format negatives are commonly converted into anamorphic prints for projection.
In the years since digital cinema cameras became commonplace, anamorphic has experienced a considerable resurgence of popularity, due in large part to the higher base ISO sensitivity of digital sensors which allows shooting at deeper stops.
Our friends from Shift 4 have a really good video and description on their website which can be viewed below.
Cooke Anamorphic/i Prime Lenses from Colin Coomber on Vimeo.
Anamorphic lenses were first widely used in the 1950s to achieve a wider frame than the standard 35mm 4:3 film was able to produce at the time. Since then they've been used in the production of countless feature films which is why the anamorphic frame and characteristics are subconsciously ingrained as more cinematic than that of spherical lenses.
Anamorphic lenses achieve this look by squeezing the image onto the camera's sensor by 2 times horizontally, to then be de-squeezed in post. As these 2 times lenses were originally designed to work with 35mm film, they work best with cameras that have larger sensors such as the ARRI ALEXA 4:3 and the ALEXA Mini.
Using the anamorphic lenses with a 4:3 sensor will achieve a frame of 2.66:1 which is usually cropped at the sides to result in a more classic 2.39:1 cinemascope frame.
Anamorphic lenses can be used with standard super35 16:9 sensors but as the sensors aren't as tall as 4:3 sensors, the field of view is reduced vertically. This produces a frame that appears even wider and requires more cropping therefore throwing away most of the recorded information.
The Anamorphic Look
The principle characteristic of anamorphic lenses is the oval bokeh. This is the shape of areas of the frame that are out of focus. Spherical lenses, which have circular irises, go out of focus evenly in all directions producing an even softness. Anamorphic lenses distort vertically the more out of focus the image becomes, generally making for a more interesting and unusual background.
Anamorphic lenses also produce a flare that's often highly sought after. However not all anamorphics flare in the same way. Cooke anamorphics are coated in an attempt to reduce flaring but can still give the iconic horizontal flare as well as some interesting halos when used wide open.
The Cooke Look
Cooke Anamorphic/i Prime Lenses share the same characteristics as all other Cooke lenses. Much like Cooke's S4 and S5 lenses, they provide a much warmer look than lenses by other manufacturers. All of Cooke's anamorphics are fully colour matched with their other lenses so if a shoot requires both anamorphic and spherical lenses they'll match effortlessly.
Cooke's Anamorphic/i Primes also have flexibility in style. Shoot wide open and you'll get very fast fall off at the sides, more vale flaring giving a lower contrast and consequently a vintage anamorphic look. Stop the iris down to T4 or lower and you'll get sharpness across the whole frame and greater control of flares and contrast resulting in a cleaner, more modern look.
www.shift-4.com
(JP/LM)
Top Related Stories
Click here for the latest broadcast news stories.