Broadcast News
07/12/2017
PlayBox Technology To Attend CABSAT 2018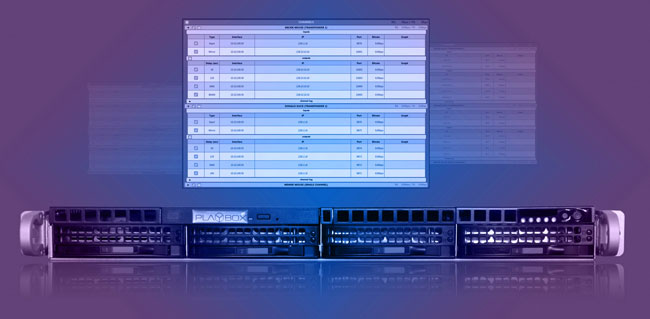 PlayBox Technology has confirmed it will debut the latest versions of its Neo and CloudAir solutions at CABSAT 2018 next month.
Neo TS Time Delay is a 1U IP-based delay server providing transparent delay of IP transport streams such as DVB/ATSC MPEG broadcast-quality compressed video and audio. Designed for broadcasters operating across multiple time zones, it integrates with the AirBox Neo product family and offers a range of timing options which can be assigned to a single administrator or specified operators. Neo TS Time Delay can be configured with multiple input channels plus multiple delayed outputs. Each input also has one zero-delay output. Operating parameters are adjusted via an web-based user interface, including channel-specific time delay in 15 second increments. Maximum delay duration depends on input bit rate and storage capacity. Additional features include programme information display of MPEG-compliant transport streams plus automatic error logging. Like all elements of the PlayBox Technology Neo product series, Neo TS Time Delay can be configured for single-unit operation or twinned for use in main and backup modes.
New workflow features for other modules in the Neo series will also be demonstrated at the show, stand ZB6-C70. These include the ability to integrate ProductionAirBox Neo with the Associated Press ENPS news production system via MOS gateway. SocialMediaBoxNeo gains a new Facebook API implementation with the ability to re-use archived feeds and the display of 'likes' for each post.
Among the new CloudAir features are a transcoder capable of handling multiple file wrappers and formats including MPEG PS/TS, MXF, QT, AVI, MP4, GXF, MPG2, H.264, ProRes, DNX HD and MJPEG. Also to be demonstrated are an enhanced graphics editor template preparation interface, improved playlist editing, advanced playlist export to EPGs and automated linking of stored assets.
Pavlin Rahnev, CEO, PlayBox Technology, said: "CABSAT provides a very useful annual opportunity to meet with existing and potential customers from the Middle East and wider African markets. We will be demonstrating Neo and CloudAir in standalone and hybrid roles. Neo forms the core of an extremely powerful complete solution as its many users around the world will readily confirm. Operating Neo with CloudAir in a hybrid configuration provides a cost-effective way to add extra channels at very short notice as well as enabling cloud-based archiving and asset management. CloudAir is also ideal for secure disaster-recovery, eliminating the capital expense and staffing involved in equipping and maintaining a dedicated off-site facility."
www.playboxtechnology.com
(JP/LM)
Top Related Stories
Click here for the latest broadcast news stories.