Broadcast News
06/10/2017
PlayBox Technology Heads To NAB NY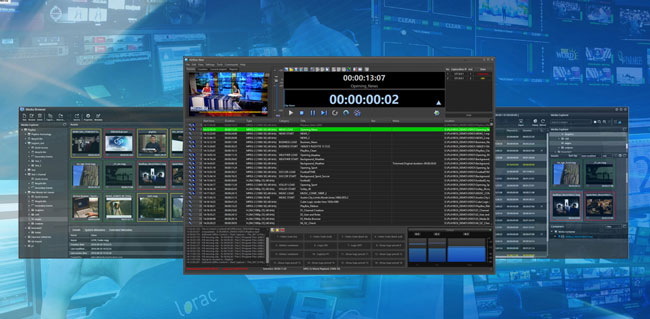 PlayBox Technology has announced that it will demonstrate the latest additions to its range of playout and channel branding solutions at NAB New York (booth N716) later this month.
On display will be complete broadcast playout solutions comprising the traditional server-based Neo, the cloud-based CloudAir and hybrid configurations combining the strengths of both platforms.
"Six months on from NAB Las Vegas, the New York show is an ideal opportunity for East Coast broadcasters and content owners to catch up on our latest advances in channel branding and playout," said US Director of Operations Van Duke. "We will be demonstrating CloudAir as a fully inclusive system for managing of playout via IP over the public cloud. As its early adopters have already discovered, CloudAir makes life easier for broadcast network operators and their investors. Set-up is fast, scalability is unlimited, pressure on apparatus-room space is zero and control can be from practically anywhere via a secure IP link. CloudAir is available as a subscriber service, freeing users from capital commitments and hardware depreciation costs."
CloudAir is scalable from single-channel up to multi-channel of any required size. It offers mobility in terms of access, reliability, IP-based workflows and linear or non-linear distribution. CloudAir can be used standalone or integrated with Neo to provide a combination of on-site hardware and remote resources.
Among new CloudAir features making their NAB New York debut will be a transcoder capable of handling multiple file wrappers and formats including MPEG PS/TS, MXF, QT, AVI, MP4, GXF, MPG2, H.264, ProRes, DNX HD and MJPEG. Also being introduced are an enhanced graphics editor template preparation interface, improved playlist editing, advanced playlist export to EPGs and automated linking of stored assets.
Also being promoted at NAB New York will be the latest addition to the Neo product series: PlayBox Neo TS Time Delay. This is a 1U IP-based delay server for single or multichannel time zone shift and disaster-recovery applications. A typical Neo TS Time Delay configuration includes zero-delay pass-through for a broadcaster's home-region time zone plus any desired delay ranging from seconds to weeks for a unicast MPEG transport stream. The same unit can simultaneously process a multicast MPEG transport stream with its own playout time settings. A third channel is then available to carry auxiliary data such as UDP. Neo TS Time Delay can operate as a single-unit or be twinned for use in main and backup modes. All operating parameters are easily adjusted via an integral web-based user interface, including channel-specific time delay in 15-second increments.
New workflow features for other modules in the Neo series will be demonstrated. These include the ability to integrate ProductionAirBox Neo closely with the Associated Press ENPS news production system via MOS gateway. SocialMediaBox Neo gains a new Facebook API implementation with the ability to re-use archived feeds and the display of 'likes' for each post.
www.playboxtechnology.com
(JP/LM)
Top Related Stories
Click here for the latest broadcast news stories.