Broadcast News
19/01/2017
PlayBox Technology Upgrades Neo & CloudAir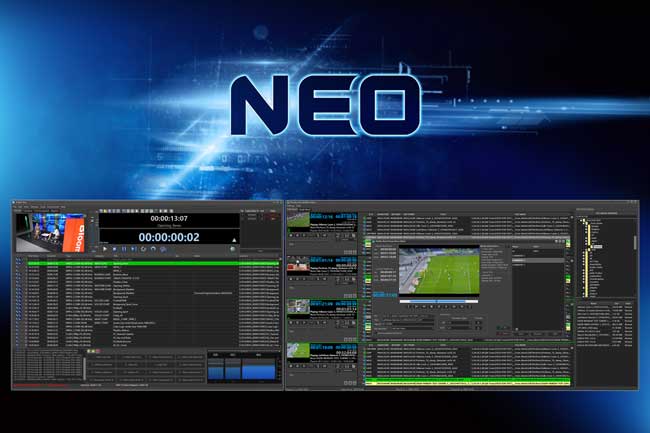 PlayBox Technology will demonstrate enhancements to its AirBox Neo and CloudAir solutions at BVE 2017.
AirBox Neo
supports UHD, HD and SD playout from a single server. It is designed for 24/7 unattended operation and can also be operated manually, including the ability to handle live-to-air throughput. New additions include streaming input compatibility with HTTP(S), UDP, RTMP, MMS(H) and YouTube plus streaming output support for UDP, RTSP and ATSC.
The
TitleBox Neo
on-air graphics and character generator gains the ability to accept and export database and spreadsheet content in the CSV (comma-separated values) format. Also added are support for the NewTek Tricaster NDI protocol and an API plugin for Blackmagic DeckLink audio/video capture and playback cards
Enhancements to the
CaptureBox Neo
multichannel ingest server include a new streaming input compatible with HTTPS, HTTP, UDP, RTMP, MMS, MMSH and YouTube. CaptureBox Neo also now supports the HEVC file format and direct ingest from Sony's XAVC 4K recording format.
Multi Backup Manager is designed for backing up multiple playout channels simultaneously. It gains a GPI alarm plugin and router control for the Grass Valley NV9000.
ProductionAirBox Neo
is a media manipulation and delivery system with the near-zero latency demanded for broadcast news, sports and live production. New features include enhanced playlist performance, faster operational response, enhanced audio quality, audio media trimming, XKeys control compatibility, NDI protocol compatibility (including Play on PGM tally on and Cue Next on PGM Tally off), plus support for 4K 50p, 59.94p and 60p.
SafeBox Neo
replicates remote content to local playout server folders for safe transmission. It has been enhanced to handle multiple instances, subtitle copying and additional media file copying.
The
CloudAir
cloud-based software-as-a-service is enhanced with a new transcoder capable of handling multiple file containers and formats including MPEG PS/TS, MXF, QT, AVI, MP4, GXF, MPG2, H.264, ProRes, DNX HD and MJPEG. Also new are an enhanced graphics editor template preparation interface, improved playlist editing, advanced playlist export to electronic programme guides and automated linking of stored assets.
Don Ash, president, PlayBox Technology, said: "With over 30 per cent of the global market for channel branding and broadcast playout systems, we and our systems integration partners are experiencing ongoing success on the proven basis of listening to our customers and delivering what they need. Levels of demand are proving excellent in America, Asia, Australasia and Europe.
"Our strategy is to offer broadcasters the greatest possible choice in the way they work. Neo gives station managers the ability to own and operate a complete on-site playout system. CloudAir is a different approach, allowing a remotely located playout service to be controlled via a secure internet connection. A third option is a hybrid of Neo plus CloudAir. The hybrid approach, which is becoming increasingly popular, offers the traditional security associated with a locally operated and locally maintained installation plus the fast expandability and flexible funding of a remote system."
Pavlin Rahnev, CEO, PlayBox Technology, added: "The purpose of the Neo series enhancements is to ensure that the core AirBox Neo server and the wide range of supporting Neo modules maintain their momentum as the most versatile, efficient and reliable content branding, scheduling and playout system currently available. They include new control features, expanded file handling capabilities, greater input and output connectivity and Microsoft Windows 10 compatibility. The enhancements have all been implemented within the informative and intuitive graphic interface which is familiar to operators around the world."
PlayBox Technology will exhibit at BVE 2017, Stand L14.
www.playboxtechnology.com
(JP)
Top Related Stories
Click here for the latest broadcast news stories.