Broadcast News
03/11/2017
Media Links To Attend InterBee 2017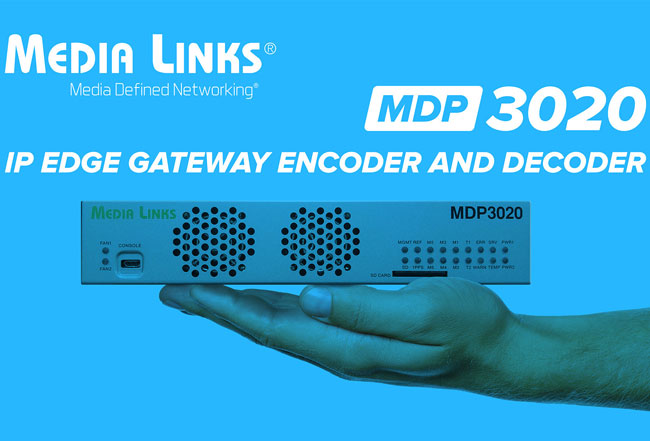 Media Links has confirmed that it is to attend InterBee 2017 later this month to demonstrate the latest developments for its IP media transport solutions.
Exhibiting in Hall 5, Booth 5104, Media Links will showcase field-proven solutions catering to both broadcasters and network providers in their transition from SDI to video over IP media transport and IP-based infrastructures.
An IP Video Switching solution (IPVR), suitable for broadcasters migrating from SDI to IP, uses the combined technology solutions of the Media Links MDX 4090 IP Video Switcher & Router, the MD 8600 Video Gateway and low-latency Media Converter, as well PCS control software. This IP transport and switching solution creates a network infrastructure for compressed and uncompressed broadcast IP content delivery between local stations, studios and broadcast networks. At InterBee, Media Links will demonstrate how its IPVR solution is optimized for use in media switching environments where bandwidth management, quality of service and deterministic timing is critical.
Also on show will be Media Links' Media Switching Network solution tailored toward Network Service Providers offering content to global and local broadcasters. The Media Switching Network Solution combines the company's MD8000 IP transport platform, the new MDP 3020 compact IP Media Gateway, the MDX 4090 IP video Switcher & Router, as well as the ProMD EMS software for real-time monitoring and troubleshooting of network elements. Together, the solution is a complete configuration for media switching and transport from remote venues all the way to media and broadcast facilities across existing IP network backbones.
The new MDP 3020 is the first in a series of Media Links' compact multi-channel encoders and decoders. At InterBee, the MDP 3020 demonstration will process media information by sending and receiving uncompressed SDI video signals over IP networks with support for SMPTE 2022-2/6/7 and TR-01 standards.
John Dale, Media Links Chairman, CEO and president, explained: "As mission critical content is transported more simply, faster and economically than ever before, Media Links' solutions continue to deliver on our vision of providing Media Without Limits to our customers world-wide. At InterBee 2017, we are looking forward to discussing and demonstrating the advantages of implementing new IP workflows and how broadcasters and network providers can implement Media Links' solutions as they navigate their transition from SDI to IP. Our expertise lies in media over IP media transport, whether the goal is to move media simply to the next room or across the globe. Plus, our technology is suitable for broadcasters and carriers regardless of the stage of IP transition that they are in. An IP infrastructure using Media Links solutions can be deployed incrementally and as needed, in conjunction with existing infrastructure and as budget permits."
www.medialinks.com
(JP/LM)
Top Related Stories
Click here for the latest broadcast news stories.