Broadcast News
17/08/2017
CloudAir & Neo Take Centre Stage At IBC2017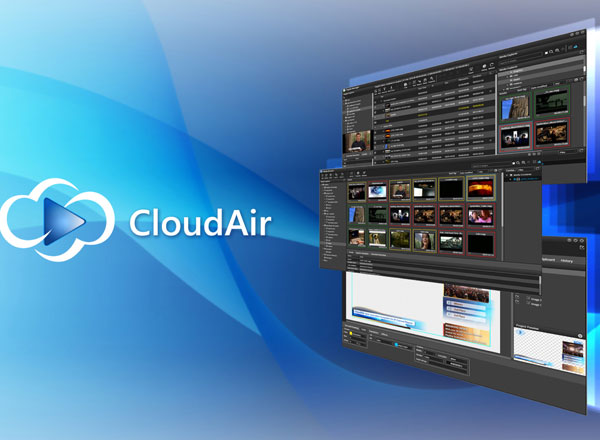 PlayBox Technology will demonstrate complete broadcast playout solutions leveraging its cloud-based CloudAir and server-based Neo platforms at the upcoming IBC-2017 exhibition in Amsterdam. Hybrid configurations combining the strengths of both platforms will also be shown.
PlayBox Technology President, Don Ash, said: "Broadcasters today are demanding speed and flexibility in the way they set up and manage their services. Partnership agreements between PlayBox Technology and an increasing number of communication service providers have made CloudAir more accessible than ever to existing and would-be broadcasters throughout the world.
"CloudAir eliminates the need for channel managers to wait for new technical hardware to be delivered, installed and commissioned. Available on a fast-startup software-as-a service basis, CloudAir forms a basis for highly efficient broadcasting via terrestrial, satellite and dedicated cable wherever and whenever these are the channel management's preferred delivery media. It makes the process of starting a new channel as simple as making a phone call, either direct to their preferred service provider or via the global network of PlayBox Technology support offices."
CEO Pavlin Rahnev, added: "CloudAir also gives content owners the ability to start purely IPTV-based channels at very short notice, accessible to online viewers in any country. IPTV channels can be operated to a published schedule or as viewer-specific time-buffered video-on-demand.
"Channel managers can control the whole process of branding and playout via a secure link from a desktop or even a laptop computer. They can upload content via the same link ahead of transmission while retaining the freedom all broadcasters appreciate to add late-breaking stories such as news as additions to the playout schedule. Entire channels can be operated this way without managers needing to own, accommodate and maintain dedicated hardware. We will also be demonstrating the ease with which CloudAir can be integrated with our established Neo server-based product series to form a hybrid of onsite and offsite channel management and playout resources.
"An increasing number of Neo customers are already seeing the advantages CloudAir offers as a remote disaster-recovery solution and as a medium for single-event OTT or full 24/7 fast-startup television channels."
Among new CloudAir features making their IBC debut will be a transcoder capable of handling multiple file wrappers and formats including MPEG PS/TS, MXF, QT, AVI, MP4, GXF, MPG2, H.264, ProRes, DNX HD and MJPEG. Also being introduced to European broadcasters are an enhanced graphics editor template preparation interface, improved playlist editing, advanced playlist export to EPGs and automated linking of stored assets.
A new addition to the Neo platform, Neo TS IP Stream Delay, will make its maiden exhibition appearance. Occupying a standalone 1U chassis, Neo TS IP Stream Delay provides fully transparent delay of IP transport streams such as DVB/ATSC MPEG broadcast-quality compressed video and audio for single or multichannel time zone shift and disaster-recovery applications.
Designed for fully automated operation, it can be configured with multiple input channels and multiple delayed outputs. Each input also has one zero-delay output. All operating parameters are easily adjusted via an integral web-based user interface, including channel-specific time delay in 15 second increments. Maximum delay duration depends on input bit rate and storage capacity. Additional features include programme information display of MPEG-compliant transport streams plus automatic error logging.
Over 40 new features for other modules in the Neo series will be introduced at IBC2017. These include the ability to integrate ProductionAirBox Neo closely with the Associated Press ENPS news production system via MOS gateway. Among other additions to the capabilities of PlayBox Neo are extended control features, expanded file handling capabilities, greater input and output connectivity and Microsoft Windows 10 compatibility. These have all been implemented within an informative and intuitive graphic interface which is familiar to operators around the world.
playboxtechnology.com
Top Related Stories
Click here for the latest broadcast news stories.