Broadcast News
03/02/2016
PlayBox Technology's CloudAir To Make CABSAT Debut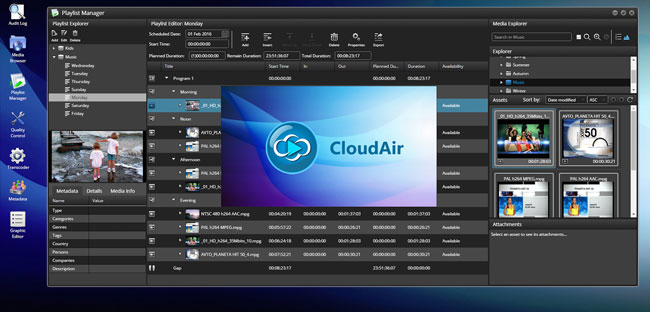 PlayBox Technology will debut its CloudAir and PlayBox NEO solutions at CABSAT 2016, it has been announced. The company will be represented at the show, which takes place in Dubai from 8 – 10 March, by Pavlin Rahnev, CEO, and colleagues from PlayBox Technology ME Ltd.
Exhibited as a technology demonstration at IBC in September 2015, CloudAir Channel-in-the-Cloud allows new television channels to be quickly established without the usual preliminary investment in playout infrastructure.
"CloudAir allows a new television channel to be set up in matter of seconds," explains PlayBox Technology President Don Ash. "It is designed for anyone who wants to broadcast television content, be it on a real-time 24/7 basis, a catch-up television facility, the red button element of a reality TV show or a short-running programme series such as a sports event. It can also be deployed as the basis of a highly secure disaster recovery system.
"CloudAir is about speed, unlimited scalability and easy affordability. It has the potential to empower new or existing programme streams wherever and whenever they are needed, in any standard from SD to UHD. Available on a software-as-a-service basis, it offers established broadcasters or new-start entrepreneurs unsurpassed freedom in the style and scale of their operation and in the way they fund their business.
"CloudAir is able to provide true playout with graphics on any enterprise-class blade, rack or tower server. Once the CloudAir is installed, no auxiliary hardware is required at all. CloudAir attracted a huge level of interest from multinational, national and regional broadcasters, not least as a basis for adding supplementary channels to an existing multiplex."
Also on display at CABSAT 2016 will be upgrades to the PlayBox platform – AirBox Neo, TitleBox Neo, CaptureBox Neo and SafeBox Neo. These can be combined on a modular basis to match any size of operation.
The core element of the PlayBox suite is the AirBox Neo playout server. It is designed for 24/7 unattended operation, but can also be operated manually – including the ability to handle live-to-air throughput. AirBox Neo supports UHD, HD and SD in single server.
TitleBox Neo provides a range of interactive on-air graphics and titling capabilities which can be manipulated live, and includes improvements for dealing with UHD projects as well as supporting HD and SD operation.
CaptureBox Neo allows HD or SD content to be captured from up to four video sources simultaneously. These can be monitored on a single screen and controlled via a streamlined user interface with enhanced multichannel control and operability.
SafeBox Neo replicates remote content to local playout server folders for safe transmission. It implements a new graphic interface, in addition to new faster processing for moving primary or copied content to the playout and central storage servers. A new workflow routine protects content against unauthorised deletion.
"The PlayBox Neo series is a powerful evolutionary upgrade option available to our entire user base," added Don Ash. "New features include UHD compatibility which will allow channel managers to gear for the latest generation of transmission standards as soon as they choose. PlayBox Neo also incorporates a new high-efficiency user interface plus a wide range of detailed enhancements designed to keep the PlayBox platform as the world's best-selling playout and channel branding product suite.
"Customers with valid Annual Software Maintenance & Technical Support can upgrade their existing PlayBox products to the latest Neo versions as a simple download provided their hardware is able to support it. If they contact PlayBox Technology, we will be able to analyse their system and advise relevant upgrade options."
www.playboxtechnology.com
(JP/LM)
Top Related Stories
Click here for the latest broadcast news stories.