Broadcast News
19/06/2017
Lola Delivers VFX For New Teletubbies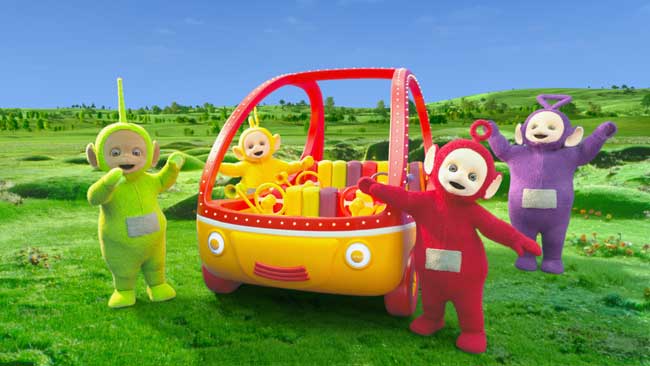 Lola has completed 120 episodes as sole VFX vendor on the new version of CBeebies series Teletubbies. The show, which originally aired 20 years ago, saw a new series launched in 2015.
With Lola's extensive VFX back catalogue, Darrall Macqueen, the production company appointed by brand owner DHX Media, contacted Lola in the early pre-production days for advice on how to handle such a show.
Rob Harvey, Lola Creative Director and overall series VFX Supervisor, explained: "The brief was simple: The new series needed to be true to the original, retaining that distinctive and lovable quality we all remember, but updated for today's preschoolers. A decision was made from the start to employ a mix of old and new filming techniques throughout, including models, motion control and props, as well as VFX.
"In pre-production, we decided to first build the Teletubbies world as a CG model so we could control the layout of the terrain and test the compositions of the shots with director Jack Jameson and DOP Simon Reay. This process allowed everyone to really get to grips with what we were trying to achieve and created amazing dialogue and feedback from all departments."
Both series consisted of 60x14' episodes. Combined with a range of story content and CG, this equated to two fully animated feature films.
The shoot took place at Twickenham Studios over a six-month period on blue screen. Three mounds were created for the background environment and arranged in five different layouts that allowed the creation of more than 20 unique backgrounds shot around a circular CG model. All landscapes – including flowers, trees and sky that are seen beyond the model – were created in Terragen, a CG tool for creating natural or realistic environments.
Finding ways to marry old and new techniques to produce the best results, the Prop Shop were asked to create a 3D-printed version of the model background, which was almost four metres across and dressed with synthetic grass, thousands of laser cut flowers, individually planted tree stumps and rabbit holes. This would ensure accuracy and durability, which was an important consideration as the model would have to last several months under studio lights. The whole setup was mounted on a massive turntable, marked in degrees so it could be turned to face the camera very quickly.
For the more straightforward scenes, the CG model was used to pre-visualise the shot then the practical model was rotated on the turntable to match. Quite a low-tech solution, but fast and efficient, allowing the background plates to be shot while the Teletubbies were resting between takes.
The complicated sweeping moves required blue screen Teletubbies performances shot with an Ncam System from The VFX Company attached to a crane. The data was then scaled by 1/20th and checked through their Rig Chase system before being transferred to a Milo motion control rig and borescope lens to shoot the corresponding model background plates.
Series 2 of the Teletubbies is more ambitious and expansive than the first series with new additions, a Tubby Car to transport the Teletubbies from the Home Dome to a new location – a hidden playground called the Hidey Hup where they play on a slide, trampoline, roundabout and seesaw.
The car sequences use a CG pre-viz to plan the complex journey over the landscape. In the blue screen studio, a full-sized Tubby Car was mounted on a turntable linked to a Milo Motion Control camera to film the move around the landscape, allowing the Teletubbies to ride over and around mounds and trees. This move was scaled down and repeated over the model background and CG wheels were added to the car to steer it. The master shot is almost a minute long, so cheating wasn't an option. Full sized working pieces of playground equipment were built for the Hidey Hup scenes, shot with the Teletubbies on the blue screen stage and blended into the scale model.
Another major key addition to the new series is the introduction of the Tiddlytubbies; these eight new fully CG characters who live in the nursery were designed and created in-house by the team at Lola. They have more defined character traits and each has a distinct personality, illustrated with a unique signature performance. They interact with their live action surroundings to a greater degree, playing with the Teletubbies and their toys both in and out of the nursery.
In keeping with the series style, production designer Ant Howells created a real nursery set, complete with toys and props, to be used alongside the CG environment. Each sequence was storyboarded and pre-visualised, and the relevant background plate shot. CG toys and props were added only when the Tiddlytubbies were interacting with them.
Lola and Darrall MacQueen worked closely on Teletubbies, and Maddy Darrall said: "Lola steered the mammoth VFX needs of 120 episodes of new Teletubbies with creative precision, from concept to final delivery over two years. It was a pleasure working with Rob and his amazing team."
Rob Harvey continued: "We deliberately employed a diverse range of filming techniques both hi and low tech. We achieved as much as we could in camera and created something quite unique for a children's TV series. VFX Producer Victoria Lovejoy, animation leads Helen Bucknall and Dan Lane and the whole Lola team did an excellent job. I think we can be really proud of the amount of work and the quality we produced."
Season two of the new Teletubbies is currently on CBeebies.
www.lola-post.com
(JP/LM)
More Animation Stories