Broadcast News
31/10/2016
The BenQ PV270 Pro: A Work Of Vision & Beauty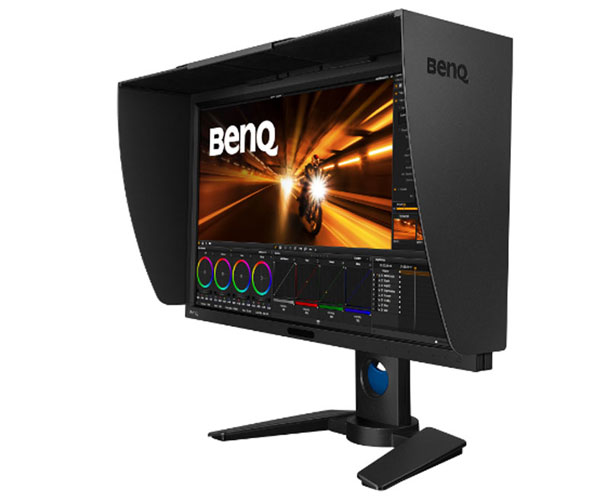 Getting a Soundman to review a new picture monitor is either a stroke of genius, or the worst idea since Jeremy Clarkson walked into a hotel and said, 'Am I too late for dinner?', writes Neil Hillman MPSE, The Audio Suite.
But just to put your mind at rest, I've been a sound and picture facility owner long enough to recognise when a game-changer arrives on the scene – and it may well be the case with this: the BenQ PV270 Pro monitor.
BenQ have a good name for providing good bang-for-bucks products and this model is no exception to that rule: innovatively and sturdily built, the 27-inch LED backlit screen can be rotated through 90 degrees to offer both a portrait, as well as a landscape, canvas. The height can also be easily adjusted, and the screen tilted between – 5 degrees or + 20 degrees. There's even a 45 degree left-or-right rest position for the screen.
However, what's more impressive is that a monitor at this price-point is out-of-the-box 'Technicolor Color Certified'; meaning its luminance, gamut and gamma are considered block-buster capable, and the image processing chip within the monitor can be adjusted without altering the settings of the host computer's graphics card. Add in the supplied X-Rite Palette Master calibration software, 24P support with 48Hz and 72Hz refresh rates, and Colourists can be confident that the 'big-screen' will match their small-screen. And there's more that puts this model ahead of its similarly-priced competitors: things like a backlight sensor to stabilize the monitor's brightness; brightness uniformity across the whole screen; a GamutDuo function to enable two different sources to be viewed side-by-side, using two different colour standards; and 'Color Display Clone' software that detects differences in ambient light to automatically adjust the displayed colour temperature. There's even a folding monitor-hood supplied to reduce reflections and display contrast.
This is the bit where lots of numbers get written: the display area is 596mm x 335mm (23.46 inches x 13.12 inches) and has a native resolution of 2560 x 1440 pixels. That's a 16:9 aspect ratio. BenQ claim that the monitor is capable of reproducing over a billion colours (1.07 billion to be precise, but not all at once) and it has a contrast ratio of 1,000:1/250cd/m², offering a dynamic contrast ratio of 20000000:1. I'm going to come clean – those are not figures I bandy around regularly in my head; but they're here to help further benchmark this feature-rich, pocket-rocket against any rival products.
The PV270 supports USB3.0, connecting to the computer via a supplied cable, and this provides one upstream and two downstream ports. Alongside the USB ports on the side of the monitor is an SD card reader and the essential connectors – power, DVI-DL, USB3.0 and HDMI – are all located at the rear of the screen.
With a Facility Owner's hat on, I'd say that this is a very affordable solution for companies that would otherwise aspire to provide Grade 1 monitors at each and every picture workstation, but for their hardware budget not stretching the many thousands of extra pounds that this would mean.
With a Practitioner's hat on, I'd say it's also a great step forward for serious and ambitious freelancers, maybe working from home studios, wanting to ensure image consistency and quality; whether delivering the final product or contributing to a team within an agency workflow. OK, there's one noticeable gap in its coverage: a lack of 4K support; but this may not be needed, not yet, at every workstation... And meanwhile, running a profitable facility (I can tell you from expensive experience), is all about knowing where compromise can be made before it affects the quality of the output. Therefore, the BenQ PV270 joins a small and select list of equipment I describe as 'Compromise Champions'.
As for the monitor's sound capabilities, well can you believe it? There's not an in-built speaker or even a 3.5mm headphone jack for video editors to monitor sound through. But isn't that where we came in?
theaudiosuite.com
More Post Production Stories