Broadcast News
14/09/2016
David Baillie: Documenting Halley VI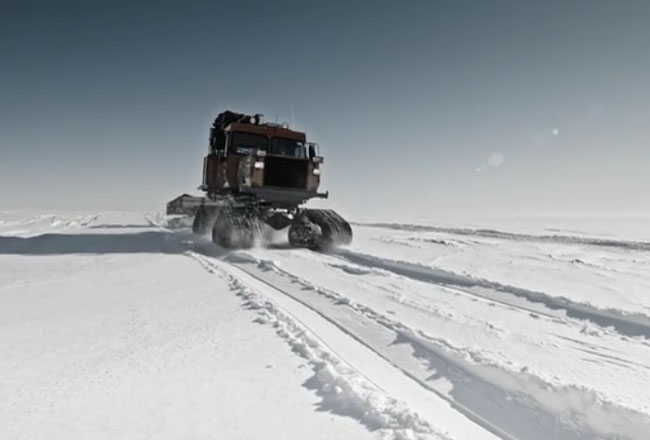 Antarctica. Known as the coldest, windiest and driest place on the planet, and where, in the Winter, the sun doesn't rise for over three months. But this didn't stop Director of Photography David Baillie from documenting the work of the British Antarctic Survey's Halley VI Research Station, positioned on the Brunt Ice Shelf.
The part of the ice shelf that is home to Halley has a growing chasm that could eventually leave the research station adrift on a massive floating iceberg. Documenting the scientific monitoring of the crack, and the plans to move the whole station to a safer location, was a key part of the documentary. Halley VI plays a vital international role in earth science and space weather observation, and this work was also featured in the BBC Horizon documentary.
Having visited over 90 countries throughout his career, The Crewing Company's Emmy and BAFTA-Award winning freelancer, David Baillie is a DoP who has worked in extreme environments. Nowadays it is usually climatic extremes but he has previous experience in many of the world's war zones including Sudan and Kashmir. But David is swift to admit he is no adrenaline junkie, and says his attraction to these stories was mainly the experience of witnessing history and telling those stories, rather than being shot at.
His industry qualifications are extensive, including certifications in Marine Personal Survival, Helicopter Underwater Escape, and Mountain First Aid. David also holds a Private Pilots Licence for both microlight and fixed wing aircraft. He even has a Gold Blue Peter badge for shooting the 60th anniversary episode.
On his work with drones, David said: "I've done a fair bit of drone work on dramas but I think they're vastly overused and overrated. I was not exactly enthusiastic about my producer, Simon, taking one to Halley. I'm probably just a grumpy old cameraman but I feel that too often they provide a viewpoint that doesn't add to, or even relate to the story. To me, drone shots often just say: 'Hey, we've got a drone; aren't we cool?' When taking top shots of the base at Halley, I shot from a crane platform. I didn't want to lose the sense of stillness with a shot from a moving drone. Whilst I can and do shoot with drones quite often, I prefer to do so when there is a good editorial and creative reason for it.
"In Antarctica, I gave Simon a hard time about him flying the drone and said I hoped it crashed. (Cheerful, I know!) Anyway, the first time Simon did fly it (with me operating the gimbal) it crash-landed on the other side of a crevasse field. To retrieve it, I had to rope up with another climber and cross the crevassed area. I knew that Simon and the others were watching through binoculars from the ship, so when we reached the drone I pretended to smash it up with my ice axe. Needless to say, I did retrieve it in one piece and it was used several times throughout the project. Simon very kindly excused me from operating it again and shot some great stuff himself."
www.thecrewingcompany.com
(JP/LM)
Top Related Stories
Click here for the latest broadcast news stories.