Broadcast News
02/09/2016
Skylark To Join Cumbria Airspace Users Forum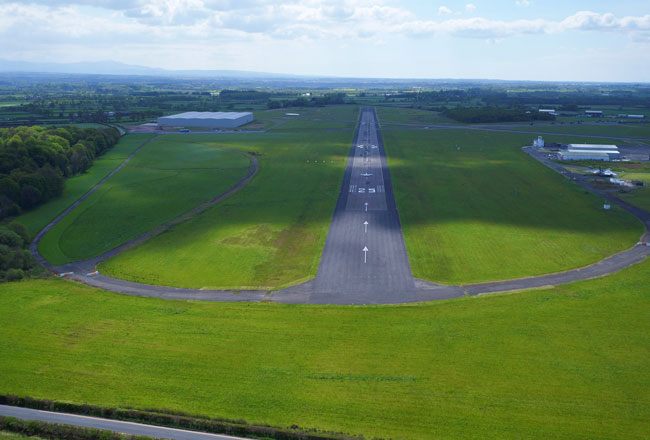 Skylark Aerial Photography has been invited by Carlisle Airport to join the Cumbria Airspace Users Forum.
The forum represents users of Cumbria's air space; from RAF, Air Ambulance, commercial operators, light aircraft, RC models, Virgin hot air balloons, microlight aircraft, paragliders, and Police Drone Division.
Skylark will take part and co-ordinate with other users to ensure that Cumbria's air space continues to be a safe area to operate commercial licensed drones and no infringements occur with other users.
The meeting will take place on Monday 05 September, and the guest for the evening will be CAA Director of UK Airprox Board.
There will also be a presentation from the new Cumbria Police Drone unit who are keen to coordinate their actions with other airspace users.
Skylark has previously worked closely with Carlisle Airport, having been commissioned to take aerial photographs of the airport in June 2016. The airport was not closed as the drones were deployed; instead Air Traffic Control worked with Skylark via radio (Skylark is licensed to communicate with ATC and other air traffic, and also hold a valid fixed wing pilots licence). The drones fitted in with other users at the airport, including onto approaches to the active runway.
Simon Handley, owner and operator of Skylark, said it was strange to be flying the drones from the helipad next to the tower and speaking with ATC only meters away, yet flying the drone in the circuit pattern with other air traffic. This was a first for Carlisle Airport, having unmanned drones flying in the air traffic zone (ATZ).
Another first was the trailing on runway inspection with the drones, fitting in with other air traffic Skylark drones inspected the runways for debris and damage. The assessment is still continuing if this is a viable option at major airports for runway inspections.
Carlisle ATC insisted that the drone operator must have a flying background and knowledge of circuit procedures and radio phraseology before been allowed to fly commercial drones in the ATZ.
www.skylark-aerialphotography.co.uk
(JP/LM)
Top Related Stories
Click here for the latest broadcast news stories.