Broadcast News
28/01/2016
Aerialworx – Drones In The Atlantic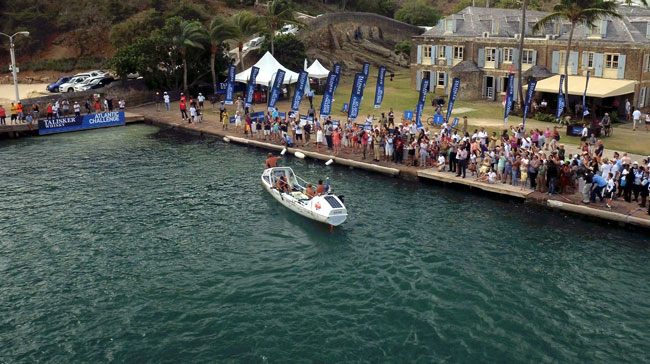 In September 2015, Aerialworx were approached by Talisker Whisky to film their 2015 Atlantic Challenge, the world's toughest rowing race. More people have conquered Everest than have rowed across the Atlantic.
Twenty-six teams of athletes endure this enormous challenge, facing one of the most perilous oceans on earth. Teams of four, two and the toughest of all, the soloists are rowing from La'Gomera in Spain to English Harbour in Antigua. They can spend over 40 days and up to 120 days out at sea. Until this year the race-record remained at 41 days, but the amazing British "Ocean Reunion" team smashed the race record, completing the 3000 mile race in an astonishing 38 days.
Taliskers' demands were not reserved for just the rowers, the support teams and film crew were also put to the test. They demanded dramatic aerial shots and needed a team, capable of flying all day long in extreme conditions, from the back of a boat, in the middle of the Atlantic, in five meter swells with impending storms.
As specialists in extreme drone filming, the Aerialworx team consisting of Stefanie Williams and Pete Stanton are amongst the elite within the industry with over 30 years' experience. The planning was not easy with numerous conversations and correspondence with authorities on both sides of the Atlantic. Not averse to operating in extreme conditions, they returned from filming Bear Grylls Mission Survive in South Africa in November to heading off to Spain to cover this two month long Talisker Atlantic Challenge.
Pete Stanton added: "It's been an amazing experience, pushing our piloting, filming and engineering skills to the limits as we operated our drone in huge five meter swell with a constant battle to keep our equipment clean and dry. It was a special moment filming the 4 man British team 'Ocean Reunion' as they smashed the record and crossed the finish line in Antigua. It was great working with the Talisker team and we look forward to working with them again in the future!"
www.aerialworx.co.uk/project/drone-filming-antigua-carribean/
Top Related Stories
Click here for the latest broadcast news stories.