Broadcast News
09/09/2016
Qvest Media Partners With HPE At IBC2016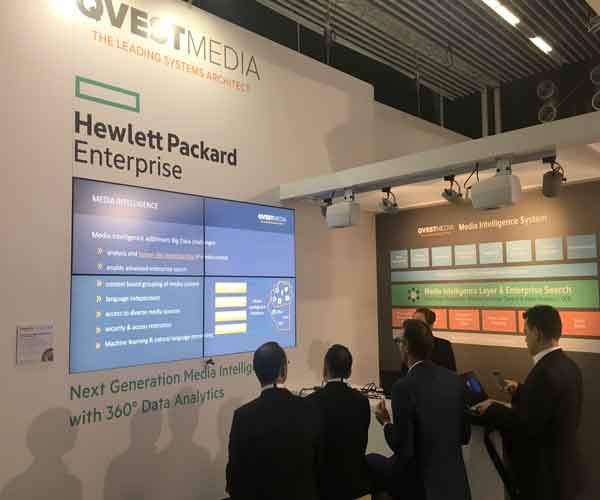 Qvest Media has partnered with Hewlett Packard Enterprise (HPE) to showcase the huge potential of artificial intelligence in the analysis of media content at IBC2016.
The companies are bundling their expertise and presenting their Media Intelligence System together at Qvest Media's exhibition stand.
The system enables media organisations such as broadcasters, digital publishers, telecommunications service providers as well as owners of rights and licenses and licensees to access virtually all media sources internal and external to the business in order to automate searching through unstructured media data, evaluating content, clustering results in context and linking them with one another.
The Media Intelligence System allows more than 1,000 different data types such as text, image, audio, video and meta data to be analyzed in real time. Functions like logo and facial recognition, language and video analysis and OCR in moving images open up completely new possibilities for media companies in assessing and utilizing content. The Media Intelligence System is primarily based on the enterprise search application HPE IDOL (intelligent data operating layer) and an operating layer from Qvest Media, which provides interoperability between HPE IDOL and typical systems used in media organizations like media asset management, document management, digital asset management, content management, news reporting and media monitoring systems. This turns the overall system into a powerful media analysis platform that supplies insight into data from a wide range of sources, in different formats and in a large number of storage locations. While it only used to be possible to categorize structured data, the innovative technology of HPE IDOL now also allows unstructured data like videos to be read. Sequences and entire films can be provided with meta data and archived in an automated process, with the analysis platform recognizing relevant attributes in moving images and autonomously categorizing them by keyword. Voices and faces in audio and video files are thus automatically assigned to people, clustered and linked to each other at meta level.
It is possible to search for people such as actors in text, image and audio files that have been classified in a clustering process based on different scalable categories independent of the actual files. Moreover, the system recognizes similarities and patterns, and, when analyzing a document or screening a video, recommends related or additional content to users in real time. The system also searches for relevant patterns in sources external to the organization such as social networks. Data from profiles and activities in social media can therefore be read and interpreted, providing information about important trend forecasts. This means that the playout of relevant content tailored to the user is done with extreme precision.
The HPE IDOL analysis platform supports a wide variety of file formats and is able to analyze over 150 data sources simultaneously in real time. These include not only storage systems internal to an organization but also familiar external sources like Twitter, YouTube, Dropbox and Documentum. Over 100 different analysis functions can be geared towards the requirements of media companies via the freely extendible and scalable user interface.
www.qvestmedia.com
Top Related Stories
Click here for the latest broadcast news stories.