Broadcast News
10/10/2018
Converting Social Media Data Feeds Into AR Graphics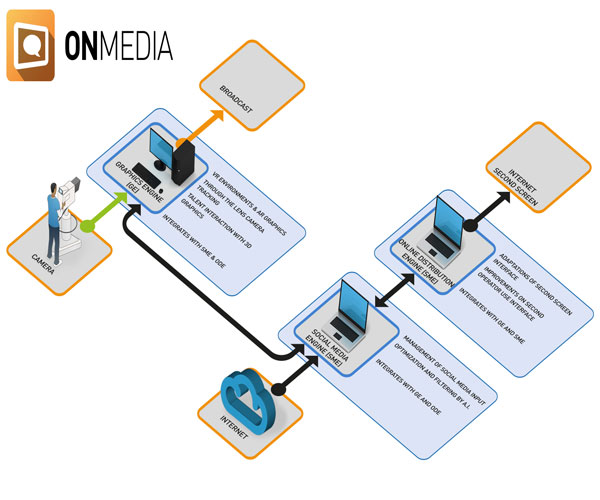 Data-driven graphics are commonly used in many broadcast applications, not only in Sports or Elections, where we assume that graphics need to be constantly updated using external data.
Other applications such as News or Entertainment often use data-driven graphics from pre-defined templates to simplify operation while providing a more visually attractive information. Data can come from many sources, from spreadsheets to RSS feeds, and more recently social media feeds (Twitter, Facebook, Instagram, etc) are increasingly used by broadcasters to illustrate the audience's opinion and social trends, or even allowing editorial teams to engage with live conversations or reactions to social posts.
Social media data are interesting as they provide a real-time snapshot of the conversations and thoughts of a great number of people, far greater than a significant statistic sample, allowing for perfectly describing the ever-changing state of opinion on a given moment. Because of this, social conversations are useful for enhancing the coverage of events like Elections or Sports games, where the audience reacts in their social accounts and conversations as the information changes or the event evolves. However, the learnings from years of dealing with data coming from social media and the internet shows that they will surely need to be filtered, edited and moderated prior to be sent on-air. Some, like statistical data or pictures from social sources, are easier to be reflected in real-time graphics with just a few edits, while Twitter or Facebook posts will need to be reviewed before being broadcasted to ensure we are not publishing inappropriate content.
Such combination of television and social media is often called Social TV. And for creating accurate, interesting and visually engaging Social TV content, a combination of two elements is required: A Social Media Engine and a Graphics Engine. To fulfil this requirement, Brainstorm and never.no have partnered to create OnMedia, an end-to-end, cloud-based solution for the management of virtual or augmented 2D and 3D graphics focusing on real-time social engagement, offering a wealth of editorial tools. OnMedia's on-board social media application makes it easy to search, order, filter and moderate to preview, render and visualise that content in real-time, and to control and playout the resulting graphics immediately into a live production, all from a single interface.
Prior to show any social graphics, the Social Media Engine must first select the appropriate content by gathering, filtering, moderating, ordering, fine-tuning, previewing and publishing social data in a unified workflow. Graphics are set-up, loaded and triggered as well, so that a single interface can be used to manage the full end-to-end production flow.
Once data are retrieved and moderated, we will need to show them as fast as possible. Then, the Graphics Engine, an intelligent 3D rendering engine, can create both 2D and 3D graphics based on a variety of dynamically changing input parameters which are filled in with the data coming from the Social Media Engine to create graphics in real-time, constantly updated with new data if required.
Out of the box, OnMedia immediately helps broadcasters enhance the value their viewers experience, which in turn, directly drives higher audience ratings and fosters loyalty from their viewers. The technology enables users to manage live social content, select an applicable template and preview a graphical visualisation of the content. The real-time graphics can then be easily rendered and published to any broadcaster's workflow for immediate on-air play out.
This article is also available in the October edition of Broadcast Film & Video
here
.
Top Related Stories
Click here for the latest broadcast news stories.