Broadcast News
16/06/2016
Blackmagic Kit Utilised In RTBF Installation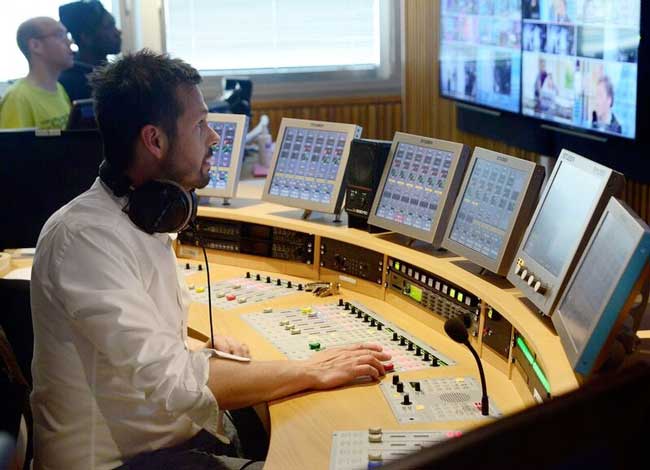 Belgium's French speaking public broadcaster, RTBF, has installed a new visual radio studio which utilises a Blackmagic video production kit alongside inhouse automation software to trigger video content across its five radio stations and two television channels.
The multi-purpose studio enables programming to be broadcast live on any, or several, radio and television channels simultaneously.
Olivier Waty, RTFB, said: "The project stemmed from a visual radio perspective; how could we add high quality video into our existing radio productions, without adding complexity into the existing workflow. We started by mapping out how we could integrate visual news reports into existing radio programming. It was soon clear that we could expand this and facilitate a much wider offering using a dedicated studio space.
"It had to be extremely versatile in order to allow us to produce the wide range of programs; from magazine and lifestyle shows, news bulletins, talk shows as well as more intimate face to face productions. However, at the same time, the technical production for any of these programs had to be achieved with a team of only three: a radio technician who manages the 'traditional' radio elements such as jingles and microphone management, a vision mixer for switching and another person in charge of the editorial content.
"Whatever type of program we are producing in the studio, high quality video production is a very important factor, particularly video for a radio program, as we need those who are used to listening, to immediately engage with the visuals and ensure they feel comfortable with the new content. All content production in the studio is handled through a video production workflow built around Blackmagic's Smart Videohub 20 x 20 for signal distribution and the ATEM 2 M/E Production Studio 4K, which delivers a professional program mix. For preview monitoring, we rely on the Blackmagic Audio Monitor, SmartScope Duo and SmartView monitors, giving the vision mixer and editorial lead extensive preview monitoring capabilities to ensure that the visuals are not only great quality, but also in context with the production.
"A Teranex standards converter is also included as part of the production unit, to enable the team to integrate content from other sources in the program mix. The Teranex's processing power is an extremely important element in maintaining the studio's flexibility in terms of content, as it gives us the ability to include sources in any format into a report. All we need to do is run the signal through the Teranex to bring it into consistency with our inhouse standard."
Waty continued: "Given the restrictions we have in terms of technical staffing, automating as much of the production process, in line with our existing workflows, was essential. Through an innovative web interface, the video technician is able to use the ATEM's API to control camera functions as well as visual effects such as picture in picture, to add a more professional feel, without the need for additional team members.
"This studio automation runs in conjunction with software developed in house by RTBF's development team (DEVTEC), which uses events taking place in the audio environment to trigger video elements to complement what is being broadcast. So, for example an interview taking place in the studio for a radio show will trigger a video signal, so those watching online can immediately see the interview taking place.
"DEVTEC has also built bridges between our newsroom computer system (NRCS), our content management system, where all pre recorded video clips are stored, and both broadcasting environments. If a journalist is presenting a news item on a radio program and wants to illustrate the story, they can access a video in the NRCS, and the automation software will ensure the clip arrives into the broadcast environment in the right format, and the audio is extracted and sent to the radio system.
"This 'double destination' process is truly innovative, and combined with the Blackmagic Design infrastructure, RTBF has an extremely flexible studio environment capable of producing full scale programming across radio and television. The ease of use and the speed to air that the team have been able to achieve has already led to editorial staff choosing the studio to broadcast breaking news, so it's clear that this type of multi purpose automation will play a major part in RTBF's studio development in future."
www.blackmagicdesign.com
(JP/LM)
Top Related Stories
Click here for the latest broadcast news stories.