Broadcast News
18/11/2014
All India Radio Integrates NETIA's Radio-Assist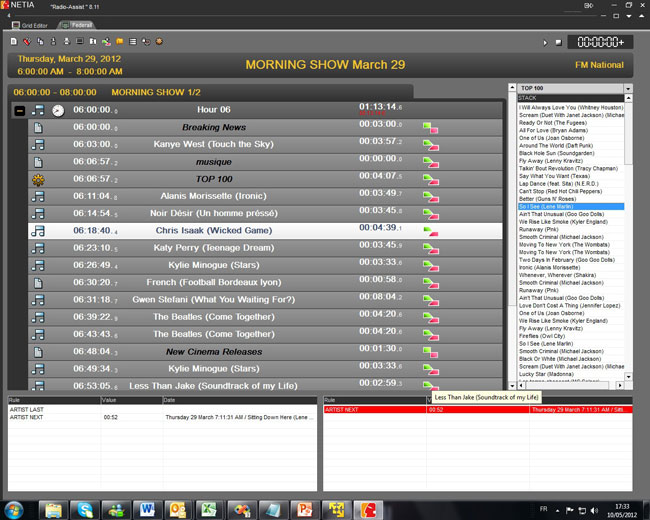 All India Radio (AIR) has adopted NETIA's new Radio-Assist digital audio software suite live on more than 1,300 workstations to support its national broadcast facility and 48 local stations.
Delhi-based systems integrator Progressive Infotech has undertaken the project.
"The work performed by Progressive Infotech and NETIA ensured that the Radio-Assist deployment met the demanding requirements of geographically distributed operations, as well as the challenges of providing content that engages AIR listeners across a large and diverse audience," said Gulshan Kharbanda, chief technology officer at Progressive Infotech. "We believe this project represented a significant improvement in AIR's production and broadcast capabilities, and we are confident that they can build on these capabilities to enrich the on-air product for their many listeners."
AIR's home service comprises 277 stations located across the country, reaching nearly 92% of the country's area and 99% of the total population. At AIR headquarters in New Delhi, the NETIA Radio-Assist deployment streamlines the broadcaster production and customisation of services to address the language and culture of each listening area.
NETIA worked closely with Progressive Infotech throughout the project, providing training and support, as well as on-the-ground assistance at critical sites in Delhi, Mumbai, and Kolkata.
"The size of this Radio-Assist implementation is truly remarkable, and it demonstrates the extent to which NETIA software can scale in supporting highly efficient radio production and broadcasting, despite the challenges of multilingual broadcasting across a massive geographic area," said Benjamin Schvent, head of Asia-Pacific operations at NETIA. "The system running live now at AIR is an excellent model of the modern large-scale radio broadcasting operation."
www.netia.com
(IT/CD)
Top Related Stories
Click here for the latest broadcast news stories.