Broadcast News
11/07/2018
On-Hertz's LUMO Software-Based Radio Studio Solution To Launch At IBC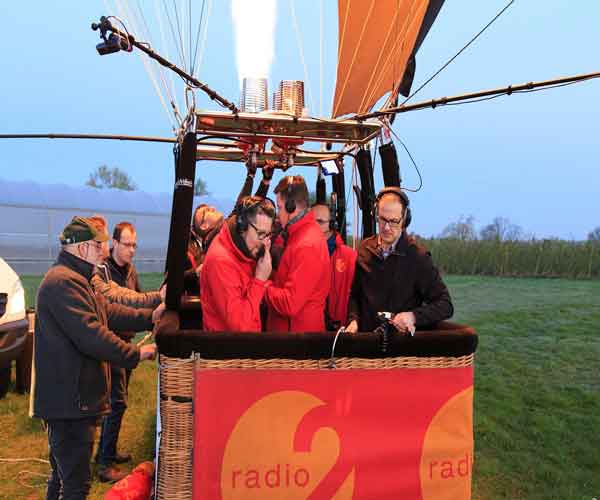 On-Hertz's LUMO software-based radio studio solution which will officially launch at IBC (Booth 10.F42), has already proven itself with Belgium's VRT Radio 2.
"It all started with VRT Radio 2 Limburg presenter Daan Masset," recalled Renaud Schoonbroodt, co-founder of On-Hertz. "He had the unconventional idea of broadcasting from a hot air balloon. However, with the radio station solutions available – too bulky and too impractical – his idea didn't seem feasible. That's when we jumped in with our software-based radio studio solution that is highly portable, and capable of being deployed anywhere - even in the basket of a balloon. LUMO is, in effect, a virtual radio studio."
LUMO leverages the power of virtualisation, together with inexpensive hardware such as a tablet or laptop, to create a radio studio solution that is both highly flexible and extremely affordable. It provides a compelling alternative to solutions based on expensive, proprietary platforms whose bulk precludes them from being easily deployed.
"It was fantastic to have the freedom to deliver a show in this way," said Masset. "We try to ensure that we are different and original and capable of surprising and delighting our audience – and LUMO enabled us to do that. I'm looking forward to finding even more exotic locations from which to broadcast my show."
The broadcast – the first of its kind in Belgium - was a complete success, and had the desired result of capturing public imagination and increasing both listener engagement and potential audience awareness of the radio station.
"The event was hugely popular on social media, reaching somewhere between three- and five times more audience than traditional shows," said Kaat Mendonck, Station Manager of Radio 2 Limburg. "Listeners were sending us photographs of the balloon as they followed the broadcast both on radio and in real life – and a number of listeners even followed us all the way by bike and by car. We believe more than half the population of Limburg saw us in the air. LUMO helped us achieve everything we wanted to achieve.
"Getting closer to our audience is a central part of our mission and vital for our success," Mendonck continued. "Historically, live broadcasts like this one were too complex, too expensive and took a long time to plan – meaning that we couldn't do as many as we wanted. What we needed was a radio outside broadcast model that is faster, more flexible and more cost-effective – and LUMO gives us that. It's opened up creative possibilities for the future that we could otherwise not have imagined."
"VRT faces the same challenges as many radio stations around the world," said Benjamin Lardinoit, co-founder of On-Hertz. "In the face of competition from, for example, streaming services, they need to become more personal, more relevant to their audience and to create the excitement and engagement that only live, interactive broadcasting can bring. LUMO provides those stations with a solution unlike anything previously seen – a solution that can transform what's possible with radio broadcasting."
On-Hertz is part of the VRT Sandbox initiative, which collaborates with inventors and creative entrepreneurial minds working at VRT as well as external organisations and companies working in media innovation. Selected companies receive the opportunity to scale and/or develop their products, with access to VRT's infrastructure and technology resources.
The Sandbox Hub replicates the VRT Sandbox model for other European broadcasters. Its main goal is to create a network of Sandboxes, enable local startups to scale within Europe, and exchange experiences and expertise. Organisations currently leveraging the Sandbox Hub include ARD, the BBC, France TV and Sverige Radio.
www.on-hertz.com
Top Related Stories
Click here for the latest broadcast news stories.