Broadcast News
08/08/2017
Sonifex Mixers Selected For University Radio Studio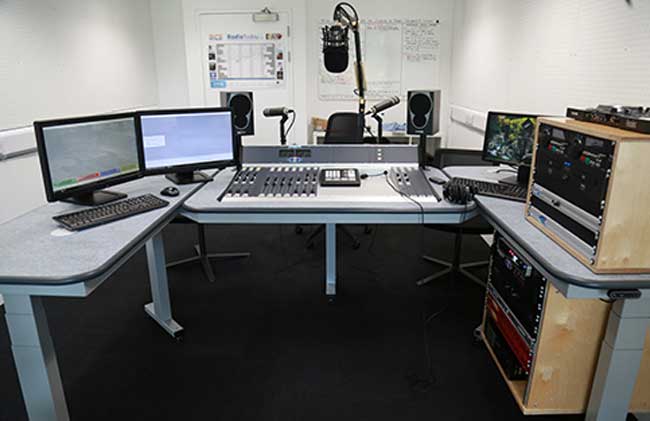 Sonifex S2 mixers and S2 Solutions furniture have been installed at Rebel, a Students' Union radio station based at Essex University in Colchester.
Housed in the Creative Studios, a new section of the university that opened in October 2015, it consists of a news room, TV studio, editing suite and two radio studios. The studios are equipped with top of the range audio equipment and software that powers both the radio and TV studios.
The two radio studios each use a bespoke Sonifex S2 mixer package with Studio 1 focussing on live on-air duties, with Studio 2 being identical as a back-up but also used to pre-record content for shows, record podcasts and manage the playlists.
The Sonifex S2 mixer package consisted of the S2 on-air mixer set into S2-Solutions technical furniture, in deep solid ash with blue/grey linoleum surfaces. The furniture used an electrical riser system which offers variable desk heights, allowing the students to present and work either standing or sitting at the desk, whilst also providing plenty of access for disabled users.
The installation was completed by Paul Miller of Advanced Studio Projects, with Peter Coxell, a former student and now Creative Studios Coordinator at Rebel, directing the install and helping out along with colleagues Gemma Brett and Louis Clift.
Peter Coxell said: "We chose to buy Sonifex equipment because we had good reviews from other universities who had worked with Sonifex before. We've not made any big changes, just adding a second monitor in Studio 1 and installing a second PC in each studio to access Skype and Luci Live."
The Sonifex S2 is a modular broadcast mixer which offers digital audio quality with analogue reliability in a modular format. It has digital and analogue input channels, together with simultaneous analogue and digital outputs. The Sonifex S2-Solution furniture is modular, so it can be used for a small L-shaped production or talks studio, through to a larger U-shaped on-air studio.
www.sonifex.co.uk
Top Related Stories
Click here for the latest broadcast news stories.