Broadcast News
11/05/2016
APAC Debut For PlayBox Technology's CloudAir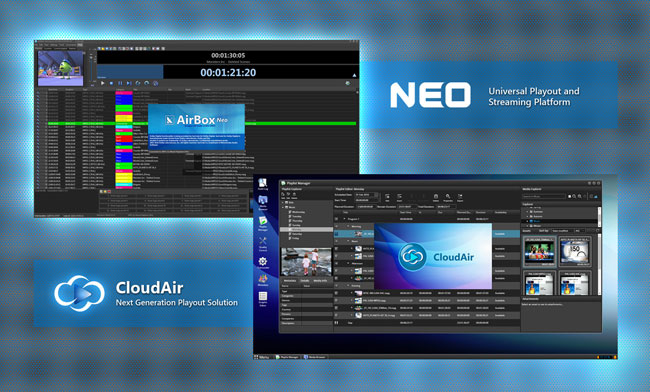 PlayBox Technology has announced that its PlayBox Neo and CloudAir solutions will make their APAC debut at BroadcastAsia 2016 later this month, stand 5D3-03.
CEO Pavlin Rahnev and PlayBox Asia Pacific General Manager Desmon Goh will be among the company's senior representatives attending the show.
A core element of the PlayBox Neo suite is the AirBox Neo playout server. Designed for 24/7 unattended operation, it can also be operated manually – including the ability to handle live-to-air throughput. AirBox Neo supports UHD, HD and SD in single server.
TitleBox Neo provides a range of interactive on-air graphics and titling capabilities which can be manipulated live. It also includes improvements for dealing with UHD projects as well as supporting HD and SD operation.
CaptureBox Neo enables HD or SD content to be captured from up to four video sources simultaneously. These can be monitored on a single screen and controlled via a streamlined user interface with enhanced multichannel control and operability.
SafeBox Neo replicates remote content to local playout server folders for safe transmission. It implements a new graphic interface, plus faster processing for moving primary or copied content to the playout and central storage servers. A new workflow routine protects content against unauthorised deletion.
"We set ourselves the ambitious goal of designing the future of broadcast playout," said Pavlin Rahnev. "That required a dual-strategy approach to meet the demand both from traditional broadcasters who like to retain full control over their technical infrastructure and from channel managers keen to employ third-party services. The results were PlayBox Neo and CloudAir respectively.
"PlayBox Neo is an evolutionary software upgrade building on the outstanding popularity of our AirBox modular playout server. Neo retains all the standard features of AirBox including the ability to preschedule programmes, interstitials and commercials or switch from automated to live transmission. PlayBox Neo adds UHD compatibility, enabling broadcasters to schedule and transmit content in UHD, HD or SD from a single easy-to-use graphic interface."
CloudAir, meanwhile, allows a new television channel to be set up in matter of seconds and has been designed for those who want to broadcast TV content, whether on a real-time 24/7 basis, catch-up facility, the red button element of a reality show or a short-running series like a sports event. CloudAir can also be deployed as the basis of a secure disaster-recovery system; and can empower new or existing programme streams where and when they are needed, in any standard from SD to UHD. It is available on a software-as-a-service basis, and is able to provide true playout with graphics on any enterprise-class blade, rack or tower server. Once CloudAir is installed, no auxiliary hardware is required.
"CloudAir is at first sight revolutionary and has taken the broadcast market by storm," added Rahnev. "In reality it builds on the long experience we have had in allowing customers to control remote playout servers via IP from wherever they choose to locate their headquarters. We pioneered IP control years ago, enabling channels to run from city centre headquarters without having to find space for on-site technical infrastructure. CloudAir carries this concept further, offering established broadcasters or new-start entrepreneurs unsurpassed freedom in the style and scale of their operation and in the way they fund their business."
"The Asia Pacific area has long been one of our core markets thanks to our very strong sales and support team in Malaysia," commented Don Ash, President of PlayBox Technology Limited. "We have an excellent relationship with leading systems integrators throughout the region, strengthened by our ability to provide local technical support when needed plus very fast online remote system inspection. All our products are based on standard IT components, protected where necessary by RAID storage architecture and optional system redundancy. These concepts were revolutionary when we introduced them but are now standard practice throughout the broadcasting and telecommunications business. Neo and CloudAir are proof of our continued ability to develop and deliver the products broadcasters need, on time and at sensible prices."
www.playboxtechnology.com
(JP/LM)
Top Related Stories
Click here for the latest broadcast news stories.