Broadcast News
28/04/2016
Leader Experiences Record-Breaking NAB Show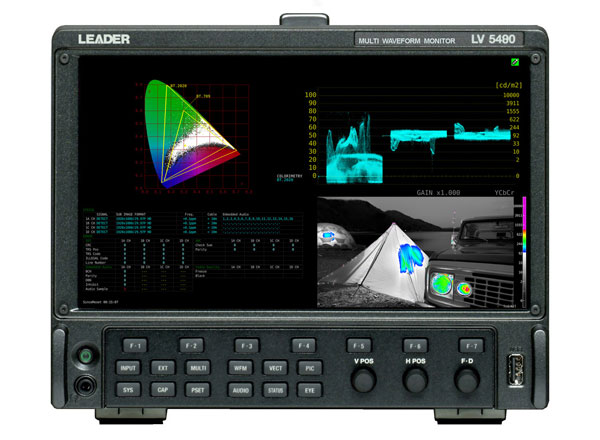 Leader Instruments has reported its most successful ever National Association of Broadcasters' Convention, with high visitor traffic to the Leader exhibit on every day of the show.
Masahiro (Hiro) Sawa, president of California-based Leader Instruments Corporation, said: "NAB 2016 attracted over 100,000 registered attendees from nearly 187 countries. It was our busiest Las Vegas NAB for many years.
"We were especially pleased to see a significant increase in the number of European visitors following the establishment of the new Leader Europe operation. Our engineers have correctly anticipated the requirements of broadcasters and brought a fantastic range of new products to market ahead of the competition."
High dynamic range (HDR) was one of the hottest topics at the exhibition. Leader is at the forefront of this new innovation with the launch of a CINEZONE-HDR option for the award-winning LV5490 4K/HD/SD waveform monitor. The LV5490 is one of the first instruments to allow broadcasters and production companies to measure HDR while ensuring standard dynamic range (SDR) viewers are not compromised.
Also announced for the LV5490 was the support for high frame rate (HFR) production. The LV5490 will support analysis of 4K signals at up to 8x real-time.
Leader additionally announced an optional 12G-SDI interface for the LV5490 plus the first public appearance of a video over IP interface based on Sony's Networked Media Interface (NMI).
Leader also introduced at NAB 2016 a software upgrade allowing the LV7390 rasterizer to be used in 4K/UHD production.
"For years, the broadcast industry has been restricted by the limitations of the display devices," Leader's European regional development manager Kevin Salvidge, added.
"Display technology is now catching up but HDR does not come in one universal standard. That is challenging for creatives who want to use HDR to improve the look and feel of their production.
"Our LV5490SER07 HDR Option supports three methods of measuring HDR: ARIB STD-B67 Hybrid Log Gamma (HLG); PQ (SMPTE ST 2084); Sony SLog3.
"Like our established CINEZONE display, CINEZONE-HDR uses false colors to display areas of the HDR image that are outside SDR limits, making it simple and easy for all members of a production team to identify potential issue and thus save the time and cost of retakes or additional hours in postproduction. CINEZONE-HDR can be displayed on a traditional waveform display.
"This makes the LV5490 the ideal waveform monitor for ensuring productions are correctly acquiring HDR content, that editors and color grading facilities are delivering the full impact of HDR, and that transmission facilities are broadcasting HDR legally.
"HDR could be the next major innovation for television broadcasting ahead of the mainstream adoption of 4K/UHD. Our LV5480, the 4K software upgradable version of the LV5490, will become the de-facto test and measurement waveform monitor for the entire broadcast industry."
Leader's CINEZONE-HDR is available as a factory installed option for the LV5490 or can be added later with a software license. Model LV5480 in its standard form is a 3G HD/SD SDI waveform monitor which can be upgraded to support 4K and CINEZONE-HDR.
The LV5480and LV5490 also support a hardware upgrade to handle 12G-SDI (LV5490SER06) and video-over-IP operation as well as Dolby Digital Audio.
http://leaderamerica.com
(MH)
Top Related Stories
Click here for the latest broadcast news stories.