Broadcast News
07/06/2019
Ikegami To Bring Full-HD HDR & Ultra-HD HDR Ranges To Broadcast Asia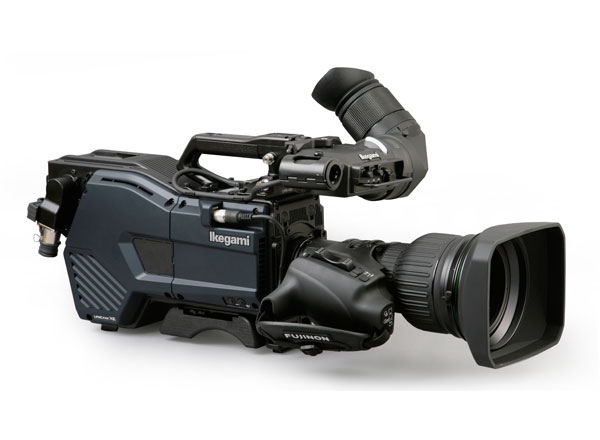 Ikegami is preparing for its trip to Broadcast Asia 2019 as the company looks to showcase its Full-HD HDR and Ultra-HD HDR camera systems and monitors.

On stand 4R4-01 (Level 4), the firm will demonstrate its HD, UHD cameras and related equipment for television content originators and broadcasters.

Broadcast Asia 2019 takes place from 18-20 June in Singapore.

Ikegami UHK-430 4K-native camera system
The UHK-430 is a 4K-native camera system with simultaneous HDR/SDR processing. Its three 2/3 inch CMOS sensors provide full 3840 x 2160 UHD resolution plus the depth of field needed for studio and outdoor production. The camera is equipped with a B4 bayonet mount compatible with 2/3 inch HD lenses. An optional SE-U430 expander accommodates large studio or OB lenses.

Additional features include an integrated super processor which allows 40 gigabit/s uncompressed full bandwidth video transmission. In its standard form, the UHK-430 weighs just 4.5 kg and comes with a 2 inch viewfinder and portable lens. Dimensions are 149 mm wide x 243 mm high x 340 mm front-to-back.

An integrated Ikegami AXII processor enables the UHK-430 to deliver a wide range of features power-efficiently, including 16-axis colour correction and focus-assist for 4K and HD video modes. BT.2020 extended colour space specification is supported in 4K mode. BT. 709 colour space is supported in HD modes and can also be switched in during 4K operation.

In addition to introducing a 4K camera, Ikegami debuts its MoIP GW (Media over IP gateway) module as an IP option for the CCU-430. The IP standard in the MoIP GW for CCU-430 conforms to SMPTE ST-2110. The MoIP GW is available with either one 25 GbE module or two 10 GbE SFP modules. Two 12G SDI connections are included as standard for easy workflow transition.

Ikegami UHL-43 4K HDR compact multi-purpose camera
The UHL-43 is a compact 4K camera employing the same operational workflow and remote control structure as Ikegami's UHK-430 and UHK-435 models. Housed in a one-piece form factor, it is designed for POV applications such as robotic studio production, sports, traffic and weather coverage and video surveillance. The camera has three 4K-native CMOS sensors, a sensitivity of F11 and a typical signal-to-noise ratio of 62 dB, allowing use even in difficult lighting conditions. An integrated HLG mode (Hybrid Log Gamma) conforms to the ITU-R BT.2100 international standard for high dynamic range (HDR). This enables the UHL-43 to deliver exceptionally detailed picture quality across the full range of brightness levels from deep black to peak white. The camera also captures wide colour gamut. In addition to its native 4K, the UHL-43 can deliver HD/3G-SDI signals for main output. The UHL-43 can perform HD down-conversion or HD cutout, enabling easy integration into existing HD workflows. Ethernet control allows easy remote operation. 3G quad link is available as an option.

Ikegami HDK-99 Full-HD HDR camera system
The HDK-99 is a docking-style camera for portable and studio applications. It employs three 2.6 megapixel CMOS image sensors delivering high picture quality in HDR at 1920 x 1080 resolution with progressive-scan. Processed 4K can be sourced from the camera control unit.

HLG mode maintains the high contrast required for HDR and conforms to the ITU-R BT.2100 international standard. Noise is less than -62 dB and sensitivity is F12. The sensors natively support 1080i /59.94, 1080i/50, 720p/59.94, 720p/50, 1080p/29.97, 1080p/25 and 1080p/23.98. Also supported are 1080p/59.94, 1080p/50, 1080i/119.88, and 1080i/100 3G HDTV formats.

Integrated in the HDK-99 is the Ikegami AXII processor which allows fast and precise colour matching for live multi-camera applications. A lens aberration correction function minimises resolution loss and coloured edging caused mainly by optical lens deviation. Quick EZ Focus Assist enhances the viewfinder signal, enabling the camera operator to make critical focus adjustments. Area size, area colour, edge colour and display time on the viewfinder are all adjustable from the camera menu.

Ikegami HDK-73 3-CMOS Full-HD HDR camera
The HDK-73 is a docking-style multi-role high-definition camera designed for SDR and HDR broadcast production. It is available as a complete system including CCU, connecting fibre, viewfinder and remote control. The camera has three high-end 2/3-inch 2.6 megapixel CMOS sensors each capable of 1920 x 1080 resolution with an extremely wide dynamic range of 1,200% in HDR mode with high sensitivity (F13 at 50 Hz) and low signal-to-noise ratio. The sensors natively support 1080i/59.94 and 1080i/50 as well as 720p/59.94 and 720p/50 scan formats. Major features include full digital signal processing, advanced digital detail correction with independent horizontal and vertical correction of red, green and blue signals, and optional anti-moiré filtering.

HLG processing is operator-selectable for HDR picture origination, enabling high-contrast scenes to be televised with full picture detail across the entire brightness range from highlights, mid-range to shaded areas.

The HDK-73's structure allows studio configuration with optical fibre base stations as well as self-contained operation with a camera adapter for wireless or onsite recording applications. A fibre adapter can be attached directly to the camera head without need for external cables. External devices such as wireless transmission or a solid-state recorder can be attached for stand-alone operation, making the camera suitable for live sports, news gathering or field production.

An optional system expander (SE-H750) converts the portable camera into a full facility studio camera with studio viewfinder and studio lenses. The HDK-73 is fully compatible with the T-430 or T-791A tripod mounting plates. The T-430 provides increased stability and strength in holding the camera. For ease of use, the camera can slide into the plate from either the front or rear.

Ikegami High Performance Monitors
Ikegami will also demonstrate the excellent picture quality of its 4K HQLM series monitors and Full-HD HLM 60 series monitors at Broadcast Asia 2019.

Ikegami's 24-inch HLM-2460WR, 17-inch HLM-1760WR and 9-inch HLM-960WR now offer the option to support HDR EOTF tables in HLG1, HLG2, and S-Log3 as well as conventional gamma.

The HQLM-1720WR is a compact UHD HDR monitor suitable for use in confined spaces such as OB vehicles. It is equipped with two 12G-SDI input channels as standard for efficient configuration with 4K equipment such as cameras and switchers. 3G-SDI, HD-SDI and HDMI inputs are also provided as standard. The HQLM-1720WR employs a 16.5 inch 3840 x 2160 pixel UHD LCD panel with LED backlight and can reproduce high resolution 4K and 2K images. Weight is just 9.5 kg.

Additionally on show will be Ikegami's HQLM-3125X 31-inch master reference monitor which offers high quality 4K colour resolution and 1000 nits brightness, together with the HQLM-3120W 4K multi-format 31-inch video monitor.
Top Related Stories
Click here for the latest broadcast news stories.