Broadcast News
24/05/2017
Leader Announces Video Noise Meter Option For LV5490 4K Waveform Monitor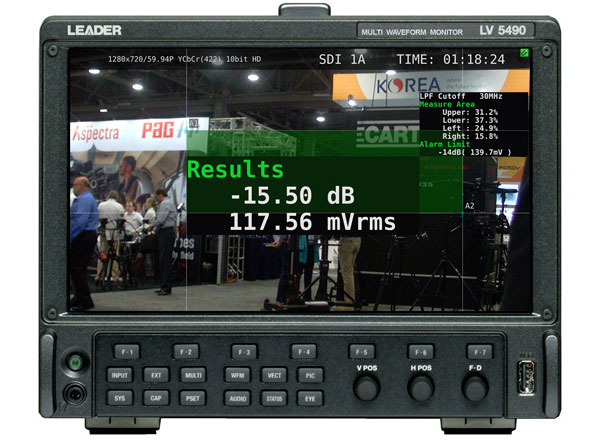 Leader Instruments has announced a new addition to the range of options available for the LV5490 4K/HD/SD waveform monitor.
The new LV5490SER10 software module is believed to be the world's first direct-digital 4K noise measurement processor. It allows measurement of noise in luminance or RGB component chroma channels. This can be performed in all formats that can be interfaced to the LV5490: IP/12G/3G/UHD/HD/SD. Data obtained from the input SDI signal is converted directly without intermediate analog processing, allowing highly accurate and highly stable measurement.

Leader's European Regional Development Manager, Kevin Salvidge, said: "This new option makes the LV5490 essential for any serious multi-camera production, whether in a studio, on location or for live outside broadcasting. It will be particularly useful for checking the noise level of cameras sourcing content for viewing on high dynamic range television receivers.
"With the advent of HDR, production companies now have the freedom to deliver the full dynamic range of their cameras. This involves shading the cameras to maximise the highlights and also capturing detail in relatively low-light areas of the image. HDR is much more transparent than standard dynamic range. If a camera is not set up correctly, low-light areas will look noisy and viewers will be able to see that noise as well as the extra picture detail.
"Prior to the launch of the LV5490SER10 option, camera noise measurement was a complicated and long-winded operation requiring digital to analogue conversion of signals which could also introduce noise to the signal. Now camera owners can simply connect the SDI output of their camera directly into the LV5490 and measure the noise levels.
"Operators can select the size and position of the measuring area as well as the Y/G/B/R component channel. An alarm can be set to alert operators if the noise level exceeds a predefined threshold. An integral low-pass filter allows elements of the high frequency band to be removed at the time of noise measurement."
Occupying a half-rack-width by 4U high housing, the Leader LV5490 offers 4K, UHD, 3G, HD and SD test and measurement features in a compact portable unit. Waveform, vector, five-bar and picture display can all be viewed at the same time on the instrument's 9 inch LCD monitor.
The monitor is full 1920 x 1080 HD resolution with a wide viewing angle and high colour reproduction. A 1920 x 1080 HD DVI and HD-SDI output is also provided to feed a larger monitor. Simultaneous viewing of up to four 3 gigabit/s SDI inputs is possible, including overlays. The size and location of individual channels can be adjusted on the display using a USB pointer so the user is not limited to fixed-size quadrants.
The new LV5490SER10 software module for Leader's LV5490 waveform monitor will be introduced on June 1 at a Broadcast Innovation Day being organised by German systems integrator Broadcast Solutions GmbH (www.broadcast-solutions.de) in cooperation with SVG Europe.
Also on show will the new LV5333SER02 HDR measurement option for Leader's LV5333 waveform and picture monitor. Announced at the 2017 NAB Show in April, this enables the LV5333 to measure HD HDR and 2SI 4K in ITU.BT.2100 Hybrid Log Gamma, Dolby PQ or Sony SLOG-3 protocols.
leader.co.jp/english
Top Related Stories
Click here for the latest broadcast news stories.