Broadcast News
10/01/2020
HD And High Dynamic Range Post-Production Update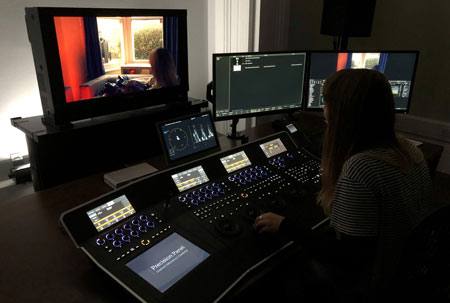 It is commonly assumed in the broadcast business that HDR is the preserve of OTT-based channels like Amazon and NetFlix. A lot more HDR production is in fact occurring and this is already influencing both OTT and OTA broadcasters with their content commissioning strategies.
A growing number of programmes are now being acquired and post-produced in HDR before being archived and converted for traditional BT.709 standard dynamic range broadcast. As with the introduction of high definition, future-proofing your assets is vital to maximise future revenues.
The Farm has been at the forefront of HDR post-production. Adam Peat and Dan Gill outline the challenges they faced and how they overcame them.
Adam Peat, Technical Director, The Farm Group, said: "We first tried Leader test instruments in 2016 when working with Hilversum-based video systems specialist United. United had integrated a Leader LV5490 into a flyaway production system. The instrument was used to check camera colorimetry and gamut during the UHD/HDR acquisition of a series for one of the leading SVOD platforms that we were collaborating on. We evaluated a number of test and measurement products and found the LV5490 to be highly suitable for HDR colour grading. We initially purchase two units from Jigsaw24. As demand grew, a third LV5490 was purchased for our Newman Street facility in London.
"Increasing demand for HDR content coupled with our expansion plans in Manchester and Bristol created a dilemma. Equipping our new facilities with UHD/HDR capabilities was the obvious choice but, if they were mainly going to be used for HD/SDR production, this was a price premium that The Farm would struggle to accommodate.
"Fortunately, at exactly the same time, Leader announced the launch of its new Zen series of test and measurement products. In its base configuration, all of the Zen series products support 3G/HD/SD-SDI operation. For Manchester and Bristol, we had decided to adopt a 12G-SDI single link operation as this significantly reduced the cabling infrastructure. But it did mean that a number of products carried a significant price premium for 12G-SDI operation.
"Fortunately, Leader's Zen Series now includes a half-rack-width 1U high rasterizer, the LV7300, which provides all the HDR functions we had become accustomed to in the LV5490 at a fraction of the price. It was also capable of supporting 6G-SDI operation as we had identified the frame rate that some our commissions had requested could be transported via SDI in full resolution over 6G-SDI. This resulted in our purchasing via Jigsaw24, five Leader LV7300 units for Manchester and four LV7300 for Bristol. Three LV7300 units in each facility are fully equipped to support UHD and HDR production, with the others upgradable via software licenses as and when business demands necessitate.
"As for why the Leader scope is so versatile, you better speak to Dan Gill, The Farm's colourist who has worked on a number of high profile HDR projects."
Dan Gill, Colourist, The Farm Group, said: "HDR post-production has come a long way since we started working on productions back in 2014/15. As with all new technology, the more you experience it the better you understand it. Initial HDR productions were for Amazon and Netflix but we are now seeing content owners looking to future-proof their assets by archiving in UHD/HDR while also creating an HD/SDR broadcast deliverable.
"HDR workflows have dramatically changed. Gone are the arguments about whether you carry out the HDR grade first, followed by the SDR grade or visa-versa. Using an ACES (Academy Colour Encoding System) workflow, you grade for the HDR deliverable. Software solutions like Dolby's iCMU (internal Content Mapping Unit) then automatically create the SDR deliverable so that only minor adjustments are required.
"I'd still recommend that anyone new to HDR involve the post-production house and colourist in pre-production planning. My biggest bugbear at the moment is drone footage. Drone footage is generally meant to be the standout sequence of a programme, with sweeping panoramic vistas. But generally, the camera used to acquire this footage does not have the dynamic range to complement the main camera, so you then have to compromise the main camera footage because of the drone footage. You can see how quickly everything unravels.
"Another area to watch out for is fluorescent colours. Security staff and medical services personal typically wear hi-vis clothing. When you come to grade an HDR project, these colours can standout and draw the viewers' attention away from the main focus area of the picture. Emergency vehicle flashing lights can also be very distracting in HDR and have an effect on the overall picture.
"The Leader LV5490 was the first scope I had seen which displayed in real-time the video image in the CIE colour chart. HDR delivery specifications talked about a Rec. 2020 colour space and DCI-P3. I had worked on feature film productions and was familiar with DCI-P3 colour space, but Rec. 2020 was new to us all, so to have a scope that could display the DCI-P3 limits in real-time was really useful.
"The second feature I really liked was the ability to display the CIE colour chart and vector-scope simultaneously. When working in HDR you need to see both of these displays. The LV5490 also allows you to customise the display layout according to your operational preference.
"Working in PQ was frustrating as only about two thirds of the display was occupied on a traditional waveform display if you were delivering a 1,000 nits programme. You have to remind yourself that you are not expecting to see the waveform monitor fill the waveform display. It is a bit unnerving to start with. On the new LV7300, you can now adjust the gain on the waveform display so that a 1,000 nits programme fills the screen and is not compressed into the lower two thirds.
"Leader's Cinelite Advance display is also really useful. It allows you to mark a region of interest on the picture that is outside the DCI-P3 colour space. That region is then displayed on the waveform monitor, vector-scope and CIE colour chart. By masking that area using the colour grading tools, I can simply correct a small area of the picture. In the past, I would have had to adjust the whole frame and that could then impact the 'artist intent' and result in many hours of frame by frame corrections. The Cinelite tool makes minor adjustments really easy."
"The Cinezone HDR 'real-time' false colour HDR display is useful when I am at the boundary of SDR and HDR. The 'blue' false colour display shows instantly which areas of the picture are on the boundaries and whether I need to push them or pull them back.
"Overall the Leader scope is a very useful tool and I can only see it being used more and more as HDR productions increase."
It's now clear that HDR is not going to be a passing fad. Like high definition, the earlier adopters are learning the quickest and developing workflows that will allow them to offer the most efficient and effective services.
With Leader test instruments offering the same measurement capabilities both on-set and in post-production, producers will have the reassurance of knowing that what they are seeing on set is what post-production will see in the grading suite. This will maximise the HDR experience for the consumer.
leadereurope.com
Top Related Stories
Click here for the latest broadcast news stories.