Broadcast News
07/08/2013
Leader LV5490 SD To 4K Waveform Debuts At IBC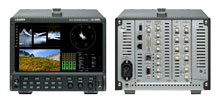 Leader Instruments has announced the European launch of its dual-award-winning LV5490 SD to 4K multi-standard multi-waveform monitor will be this year's IBC show.
"High quality 4K cameras are becoming so affordable that the format is being adopted by many digital cinematographers and video production companies," says George Gonos, President of Leader Instruments Corporation.
"Our new LV5490, previewed at NAB and expected to be deliverable during Q4, is the ideal production reference both for 4K live shooting and post-shoot refining. It also handles all common high-definition and standard-definition signal formats in one compact and affordable instrument. We have built in many of the features that have made our SD and HD instruments easy for use by creatives working intuitively. The LV5490 is also a great tool for engineers."
Leader's LV5490 waveform monitor supports the full range of standard video production and transmission resolutions from 525 and 625 standard definition up to 3840 x 2160 and 4096 x 2160 4K.
Equipped with four 3G-SDI/HD-SDI/SD-SDI input channels plus a 1920 x 1080 9 inch flat-panel display, it facilitates the matching of studio or outside-broadcast cameras.
3G-SDI dual link and quad link are both supported. Rear panel connectivity includes SDI and DVI raster outputs, Ethernet, RS-422 serial control, eight digital audio inputs/outputs, eight SDI inputs/outputs, external reference and 75 ohm loop-through, 90 to 250 volt 50/60 hertz mains power input and ground.
4K images can be divided into upper left, upper right, lower left and lower right areas and output via as four-wire or two-wire 3G-SDI channels. The LV5490 can also downconvert 4K into an interleave-sampled 1920 x 1080 pixel monitor feed.
The LV5490 can be used for waveform, vector and picture monitoring, SDI signal data analysis, cyclic-redundancy-check error, embedded-audio error, event log, data dump and timing display.
Leader's CINELITE® II toolset also comes as a standard feature.
Waveform, vector and picture display can be viewed simultaneously on the LV5490 screen. Simultaneous display and overlay display of multiple SDI inputs is possible. Size and location of individual channel displays can be adjusted using a USB-connected pointing device.
Additional features of the LV5490 include video frame capture, instrumentation screen capture, timecode display, tally light and ID display. Eye pattern display, jitter waveform display and Dolby decoding can be ordered as optional facilities. A rack mounting adapter will also be available.
Leader will be represented on stand 11.A38 by Richard Heath from Leader Europe and USA-based colleagues from Leader Instruments Corporation.
www.leaderamerica.com
(IT/CD)
Top Related Stories
Click here for the latest broadcast news stories.