Broadcast News
19/03/2020
TMG Chooses Sony Solutions And Services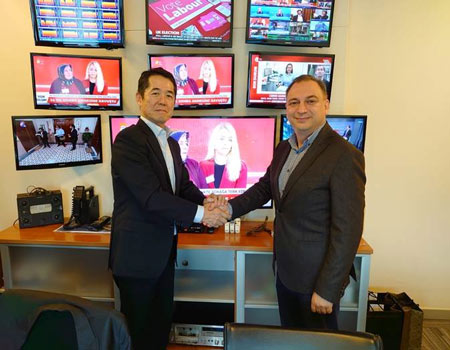 Turkuvaz Media Group (TMG), Turkey's largest private media group operating in television, radio broadcasting, as well as newspaper and magazine publication and printing, has chosen Sony solutions and services to build a new media centre in Istanbul, spanning 7 studios and control rooms, as part of a multi-million Euro deal with systems integrator Teratek.
The project consolidates TMG's distributed studios into one location to improve efficiency, future-proof its capabilities for 4K broadcasting, and create a scalable system ready for the group's future growth.
This new production centre will see the largest high-speed network using the SMPTE ST2110 and AMWA NMOS protocols deployed by Sony, and, in Europe, it will be the first all-4K IP HDR based infrastructure managed by the IP Live Manager System from Sony. As part of the deal with Teratek, TMG has made a substantial investment in a range of Sony solutions and services, including:
• 55 HDC-3500 UHD HDR & IP native system cameras
• 7 XVS-9000 UHD HDR & IP native video switchers
• 45 BVM-HX310 4K HDR TRIMASTER HX™ master monitors
• 56 LMD-A240 Full HD HDR picture monitors
To ensure that TMG's team can unlock the new production centre's potential from day one, Sony is working hand in hand with Teratek to provide comprehensive technical consultancy, engineering design, testing and on-site training services, including 2 years of support services to ensure the completion of the project on time and within budget.
The new media centre will be key to TMG's goal of consolidating all of its distributed studios into one location for efficiency, while expanding its 4K capabilities and future-proofing the business. Having grown rapidly in recent years, TMG has also over-filled its existing capacity. The new centre will enable the broadcaster to continue to grow at pace and maintain their position as the leading private media group in Turkey while meeting and exceeding their reputation for quality broadcasting.
"We've been using Sony technology for years and it has always exceeded our expectations. For this project, however, we didn't just need state-of-the-art products and solutions, but an IP-ecosystem to power them and a combination of partners who could help deliver the project and upskill our workforce. Sony was the only provider that could deliver the end-to-end solutions and services for this incredibly ambitious project. With Sony, we're laying the groundwork here for our next stage of growth. And, with the studios we are building, that growth is set to be substantial," commented Yavuz Nart, Chief Technology Officer of Turkuvaz Media Group.
With a fully IP-enabled, all-4K HDR capable infrastructure based on Cisco and controlled by the Sony IP Live System Manager, TMG will be able to boost both the quality and quantity of broadcasts while the flexibility of IP will enable new, more efficient workflows for production teams.
The new fleet of HDC-3500 system cameras will bring new levels of image quality, portability and creative flexibility to the live production environment at TMG. Including the world's first 2/3-inch 4K CMOS sensor with global shutter technology, TMG will be able to capture pristine images at 4K resolution no matter the subject of its productions.
Meanwhile, the XVS-9000 UHD HDR & IP video switchers deliver an efficient and flexible workflow as well as powerful operations. With up to 80 inputs and 40 assignable outputs in 4K, these switchers are enabling TMG to prepare for large scale 4K productions.
To help make critical imaging decisions and achieve faithful colour matching during production and post-production, TMG chose the BVM-HX310 4K HDR TRIMASTER HX™ master monitors from Sony thanks to their ability to offer accurate monitoring.
Sony has already provided training for Teratek and TMG on IP fundamentals, helping their teams to navigate the technology migration taking place and allowing them to experiment with new workflows, boost productivity and drive efficiency from the installation. Furthermore, with its partner Teratek, Sony will also work as a consultant on the architecture, design and management of the project, helping to ensure the media centre is delivered on time and within budget.
www.sony.net
Top Related Stories
Click here for the latest broadcast news stories.