Broadcast News
12/06/2015
New Partnerships, New Solutions And Treading New Territory At NAB, Pt 1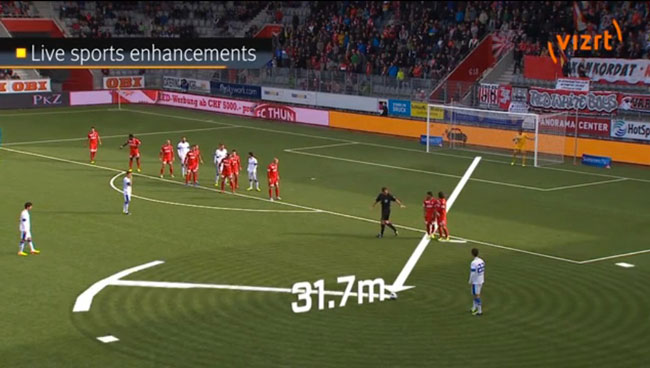 Looking back at NAB, Hans Hoffman, the EBU's Programme Manager of media technology and innovation, believes that the number one finding was the industry acceptance that it has to provide HDR ASAP, but amongst the many solutions being shown and proposed he saw one fault line. By George Jarrett...
"Many vendors are now recognising the difficulty behind building an end-to-end chain. The industry likes open and fully standardised systems, so they hope that the standards bodies of this world can drive to a conclusion on the different EOTF/OETF for UHDTV," he said. "One message was also clear: HDR (and HFR) are parameters from which HDTV could benefit from, and once we have the UHD-1 Phase 2 ratified, UHDTV will also benefit."
Considering the 1080p 60 10-bit developments as promoted by Ericsson specifically, Hoffman said: "When bit-rates are rare (i.e. for an OTT provider and adaptive streaming) one would reduce resolution from 4K to 1080p, and likely try to maintain HDR."
The other key UHDTV strut always mentioned is immersive sound, and NAB gave the chance to assess Dolby AC-4 and MPEG-H, in the context of ATSC 3.0 and future applications.
"For us in the EBU the point is clear: UHDTV must come with an immersive sound system. Naturally we like standardised and open systems, which are supported by a wide range of industry players," said Hoffman.
Twenty years of experience have started to yield influential advances for
SGL
. It had a set of new capabilities for its storage management solution FlashNet, and integration relationship news concerning Aspera and Avid.
FlashNet has been boosted by a time saving background task 'tape asset migration' service. The improved FlashWeb interface has the simpler navigation and fuller search powers users wanted. SGL was able to show off a full archive in a demo involving the Grass Valley tool Stratus: people saw its search, archive and restore facets integrated directly with FlashNet, which managed job stack up directly from the Grass Valley product.
The link up with the high-speed file transfer specialist Aspera is all about cloud-based storage and disaster recovery workflows. Users with the new SGL FlashNet archive can transfer content to commercial or private clouds at set speeds, whilst having an extra storage option and the disaster recovery workflows. It can also track and record exactly where essence is at any moment in an eco system. The link with Avid is about integration with Avid Interplay web services, the big story being the availability of SGL-developed partial file restore technology aimed primarily at archival clip restoration.
A new partnership for
GatesAir
, with the cloud-monitoring specialist Qligent for its Vision platform, has produced an interesting compliance and monitoring initiative. The key application area is for monitoring in the cloud for television services coming into and out of transmitters.
The architecture will monitor all related physical, serial transport, data and audio/video streams for standards compliance and quality of experience at any point in the air chain. The key structure sees the Vision platform powering everything, with GatesAir bringing the integration to its UHF and VHF transmission systems.
For radio broadcasters moving to IP transport networks, GatesAir has innovations for improving stream quality. This involved the new launch product Intraplex LiveLook, a software program available with GatesAir IP Link codecs that provides real-time network analytics and activity logging.
It helps broadcasters determine the best recovery options for network issues that affect on-air performance, including IP packet loss. It has an automated logging application, and a key addition in the areas of network reliability, redundancy and interoperability around the GatesAir IP Link codecs. There is also the new dynamic jitter buffer sizing application to address constant variations in stream jitter and delay.
In the area of IP networking strategies for connected studios, GatesAir had VMXpress IP. This is an AES67-compliant audio and logic device that establishes a standards-based audio over IP gateway for radio studios.
A transmission problem solver is the new Maxiva range of high-efficiency low-power transmitter and gap filler solutions. These address the challenges of high penetration across large DTV networks, while delivering the lowest total cost of ownership. The big attraction is delivering high-quality digital TV services over the air to regions lacking coverage by higher power transmitters, thus filling in hard-to-reach areas.
T&M specialist and industry stalwart
PHABRIX
has launched the Qx solution for testing and measuring 4K UHDTV-1 and UHDTV-2, and this is aimed at other vendors requiring advanced testing facilities. Introduced as the first multi rate eye and jitter solution for 12/6/3 Gbps, the Qx supports both video and audio and up to a mighty 48 Gbps payload both as optical and coaxial. The 10 Gbps Ethernet SFP provides support for SMPTE 2022-6 as development on this new platform continues.
Miller Camera Support
produced a strong candidate for the best 40 new products roster in the form of a new tripod with heavy-duty legs and good spreader, and huge weight carrying range aimed at cinematographers.
Cineline 70 has a new HD Mitchell Base 1-Stage alloy tripod and HD alloy ground spreader to match with a robust fluid head. This premium product, with proven solid build quality, aims to help cinematographers capture content with ease.
A clear sign that Miller plans to expand its share of the film production sector, Cineline 70 won a positive reaction for its speed of set up, quality build, and the high-capacity leg-lock system. This has turn-lock levers with rapid lock/release action, as well as a heavy duty Mitchell Base with a built-in bubble level. The payload capacity of 82.7 pounds will cater for all the top digital cameras armed to the teeth with accessories. At the show, Miller mentioned ARRI, Sony, RED and Canon. The HD alloy ground spreader is quick to setup and pull-down, and easily attaches to the Alloy Tripod: in use it is optimal for use on flat surfaces.
The fluid head was created with corrosion resistant alloy, and gives the user precision fluid drag control with very soft starts, smooth stops and perfect diagonal drag transition, as well as counterbalance systems with 'all-in-one-location' control layout. Other features are the ARRI-compatible, side-loading camera platform, and an optional, easy-to-fit Mitchell base adaptor to suit traditional Mitchell flat base tripods. The fluid head comes equipped with an extended sliding range to promote quick and seamless rebalancing of the rig when lens and accessory changes result in weight distributions. The fluid head also give the user dual side mounts for monitors and accessories, as well as an assistant's box front mount.
Continued in Part 2...
This article is also available to read at BFV
online
.
(JP)
Top Related Stories
Click here for the latest broadcast news stories.