Broadcast News
12/06/2015
New Partnerships, New Solutions And Treading New Territory At NAB, Pt 2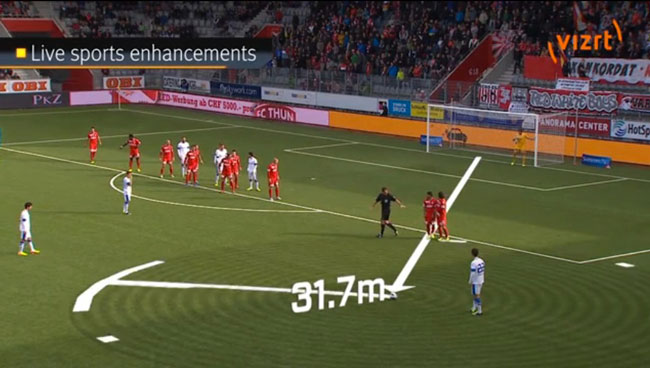 Continued from Part 1...
Panasonic
, somewhat swamped by Canon space wise, led with the P2 Cast cloud-based news production system (Dalet had put up a news studio in the cloud as well for NAB) and a new Ultra HD studio camera. Its stand show proved conclusively that a $1,500 camera armed with good lenses produces stunning pictures.
P2Cast is all about capitalising on the networking facilities in the P2 HD camcorders – specifically the AJ-PX5000G, AJ-PX800G, AJ-PX380 and AJ-PX270 – to make content at low bit rates available immediately for browsing and clip editing. The newsroom would automatically get the high-resolution footage from the camera. This can accelerate the news path to air and extends the editing reach to any connected device. Three of the above camcorders now support direct connection to the LiveU Central management platform using 4G/LTE, Wi-Fi or wired LAN. The Varicam 35 remains the most versatile of the top end 4K cameras on the market, and at NAB, Panasonic filled in a few gaps with the AK-UC3000 studio camera, the AK-UB300 4K box camera for remote and special angle type shots for sports, and the AG-DVX200. This one is large sensor handheld pumping out UHDTV images up to 3840x2160 60p. It gives you 12 stops of latitude, a 13x optical zoom lens, plus V-log L gamma curve. The studio camera will not appear until after IBC, but it produces the same UHD performance as the new handheld. It has a B4 mount which opens up economic and wide possibilities, shock-less gain, a user gamma setting, black gamma correction tracking pedestal, and multi-step digital noise reduction.
ChyronHego
had two new products – the Metacast Media Maker and SHOUT Metrics – plus other updates in the areas of virtual placement, paint production and weather graphics. Media Maker is an all-new template-based version of ChyronHego's Metacast professional weather graphics system. Billed as "revolutionising single camera shows" because it is operated by the presenter, it delivers all of the robust rendering and output capabilities in a set of pre-defined templates that connect to multiple live-weather data inputs. You can render constantly updated weather clips that can be delivered live into a ChyronHego BlueNet graphics workflow, an internal MAM, or any other file-based workflow.
SHOUT is a social media application that works with any of the company's graphics systems. SHOUT Metrics is an all-new extension for SHOUT that provides deep and rich data analysis on social media data, such as the number of Tweets per second during a specific news segment. The new thing in virtual placement is scene tracking via a new algorithm, aimed at live sports. It enables sensor-less, real-time and true 3D camera tracking in almost any environment. Most importantly, the new engine lets the user deploy virtual graphics using Steadicams and jibs. Sure to be used by baseball, it will match to and improve many other sports as consumer spectacles. The new version of Paint introduces comprehensive support for 4K productions.
Quantel/Snell
, described by New CEO Tim Thorsteinson as "two proud businesses with great technology that need to be combined into one company, one brand", topped a number of stunning demos with one on 8K production that highlighted real-time editing and processing. It had news in five areas – the migration to IP, software solutions, automation, flexible working and the new formats.
An update for the Pablo Rio colour grading and finishing system has given it OFX plug-in support, improved EXR, and alpha channel support - plus the stunning facets of real-time working and playback at 8K 60p. Next expect a fully compliant ACES workflow. The (8K 60p) performance is enabled by super optimised Quantel FrameMagic software working with processing hardware from AJA and NVIDIA. Visitors had the stunning experience of seeing 5GByte/s images on a special 7680X4320 Sharp monitor. Pablo Rio also supports 4K 60p.
On the IP front, Quantel/Snell supports the Sony IP Live Production initiative, which supports the direct connection of numerous types of production devices onto the IP network via an existing Layer-3 IP switch infrastructure. To prove the point – SMPTE 2022-6 interoperability – the Snell IP routing solution was the subject of an interoperability demonstration – with the Artel DigiLink DLC450 HD-SDI video over IP Gateway.
The Kahuna range of vision mixers has been refreshed with an integrated 4K multi-viewer and improvements to the Maverik control surface, in the shape of three new 'Mav' modules. The multi-viewer is fully integrated into the mainframe and combines multiple formats into a single 1920x1080 output head. Up to six of these are supported so the user gets up to 24 on-screen windows. There are pre-sets for layout. The audio, automation and auxiliary Mav modules have different impacts. The automation one gives you single button call up of pre-structured scenarios. The audio Mav gives operators instant audio level control. The auxiliary one boosts control of things like external DVE devices.
The transition from SDI to IP following the path of commodity switches and hardware was one of the big themes, and Quantel/Snell offered a full system composed of routers, production switching, processing and play out. The 'pain free' transition might involve plug-in modules for the Sirius routers and Kahuna switcher. With SDI and IP likely to run side by side in a hybrid world for maybe two years, Quantel/Snell's demo of IP production workflows helped the show-wide reassurances that IP will not be a hugely costly transition.
Historically very strong in the graphics and virtual set sectors of the market,
Vizrt
has prospered in huge part due to its open APIs. Asked to pinpoint where the market is going, CTO Petter Ole Jakobsen pointed at, "The brother of the virtual set, which is virtual graphics or augmented reality."
The other hot front is IP, from which in most cases 4K will be a consequence. "Every broadcaster I know is trying to get their head around the IP infrastructure. All will either experiment or start to implement it now," said Jakobsen. For this reason Vizrt offers broadcasters an IP production system for learning purposes.
The Viz One Workflow Engine – the Vizrt MAM offering – now gives its users a new graphical workflow designer tool based on BPMN 2.0. Also new are simplified reporting tools, and panel integration in Adobe Premiere Pro. The engine has three components – a web based task list client, an administration console, and a suite of business process modeling tools.
Vizrt has teamed up with Matrox and NVIDIA to build viable 4K production workflows around the Viz One management and Viz Engine rendering system, the purpose being to present an end-to-end UHDTV system structure that handles 4K live video and graphics fast. The Matrox element here is its new X.mio3 graphics card, which provides multi channel SDI I/O with hardware based processing. The NVIDIA Quadro M6000 graphics card supplies the GPU power behind the new workflow.
The Vizrt live virtual sports graphics solution was jointly developed with sports media services company deltatre: it involves matching the Magma sports TV graphics platform with the Viz Arena and its image based camera tracking and rendering capabilities.
"There are lots of countries where you cannot do virtual advertising graphics within the real environment but in America you can get away with everything," said Jakobsen. "You cannot say it's virtual. It looks that real."
This article is also available to read at BFV
online
.
(JP)
Top Related Stories
Click here for the latest broadcast news stories.