Broadcast News
26/07/2018
GatesAir Optimises Maxiva Transmitter For Small-Scale Installations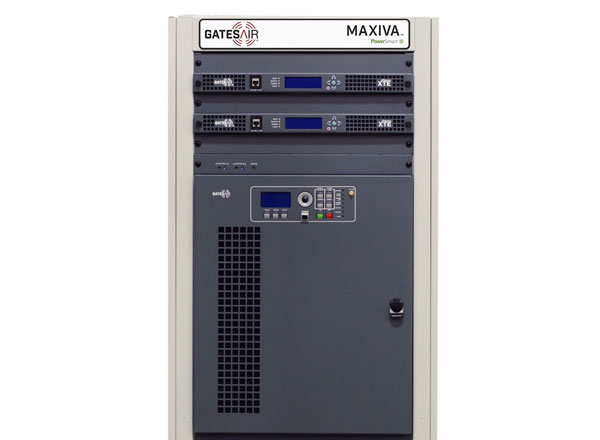 GatesAir has optimised its high-efficiency Maxiva™ VAXTE transmitter for use in small-scale DAB/DAB+ radio installations.
While the VAXTE was originally designed to drive power levels up to 8kW for large-scale and national DAB radio deployments, and up to 25.6kW for VHF TV channels across Bands I and Band III, GatesAir's latest product introduction adds support for less expansive, regional DAB radio applications.  
GatesAir will showcase the transmitter, along with its Intraplex® intelligent IP networking solutions, at Stand 8.D60 at the upcoming IBC2018 (September 14-18, RAI Conference and Exhibition Center). As complementary products, the VAXTE and Intraplex IP Link family, including audio codecs, IP transport gateways, and monitoring and control software, work together to ensure the most efficient, resilient and robust DAB radio workflow across any single frequency network (SFN) operation.    
Maxiva VAXTE
For DAB/DAB+ radio deployments and other international use cases, the newly optimised Maxiva VAXTE incorporates the same innovative features available in the high-power DAB transmitters. These include: GatesAir's patented PowerSmart® Plus architecture for high-power density and efficiency, EDI IP (and legacy ETI) signal protocols, and GatesAir's patented Real-time Adaptive Correction (RTAC) for market leading digital signal correction.  
"By saving space at the transmitter site, the VAXTE allows broadcasters to accommodate more transmitters—delivering more channels—in a much smaller footprint, while cutting energy consumption by 50 percent. This also reduces costs with simpler installation and maintenance, while providing the flexibility to switch between EDI or ETI signal transport streams," said Ted Lantz, Vice President and General Manager, Radio Product Line, GatesAir.  
With the latest software-defined Maxiva XTE exciter built-in, VAXTE transmitters can support DAB Radio (DAB, DAB+ and T-DMB) as well as OFDM (DVB-T, DVB-T2Lite, ISDB-T, ATSC 3.0) modulations. Based on the modular design, the transmitter can be flexibly configured and upgraded to meet desired size and power level requirements. With an innovative design that separates hot-swappable, front-access power supplies from power amplifiers, among other ergonomic enhancements, the VAXTE also simplifies installation and maintenance, resulting in a more favourable total cost of ownership.  
"As part of our long legacy of innovation, the VAXTE is a next-generation transmission platform that saves broadcasters money, while making them more competitive as they deal with evolving broadcast standards, and the industry-wide shift to IP networks," said Mr Lantz.  
Intraplex® IP Networking
When used in conjunction with GatesAir's Intraplex® IP Link family of intelligent networking solutions, the Maxiva VAXTE transmitter becomes part of an overall DAB or VHF workflow that provides advanced IP stream processing, monitoring and correction to ensure high-quality, error-free IP audio data transport from the studio out to the transmitter sites and SFNs.  
"At IBC, we'll showcase the operational benefits of our entire Intraplex® IP Link product line, which leverages our patented dynamic stream splicing capability to ensure that the transport of audio and data across IP networks is as secure and reliable as possible," said Keyur Parikh, Vice President and General Manager, Intraplex Product Group, GatesAir. "This includes Intraplex IPConnect, a stand-alone gateway system that provides real-time protection of any IP packet data stream to improve the flow of audio and control traffic over IP."
IPConnect is designed as a cost-efficient solution for customers that only want transport stream optimisation, without the encoding and decoding capabilities offered by IP Link codecs.  
IBC also marks the European debut of the Intraplex IP Link 200A codec, which combines audio encoding and decoding with optional built-in GPS for tightly synchronised SFN operations. IP Link 200A codecs integrate all capabilities of the globally established Intraplex IP Link 200 codec, including DAB transport stream protection, with a new AES67 AoIP interface. Ideal for STL, audio contribution and distribution functions, the Intraplex IP Link 200A provides two bidirectional stereo audio channels, one of which complies with the AES67 standard for establishing interoperability between Dante, Ravenna, Livewire and other Audio over IP networking systems.  
The GatesAir Intraplex IP Link product family also includes LiveLook software for analysing and monitoring all of the streams being transported on an IP network, and generating reports and graphs to illustrate real-time and historical performance. GatesAir's family of Intraplex IP Link products can be used with any transmitter on the market, making their deployments even more flexible and accessible to broadcasters worldwide.
www.gatesair.com
Top Related Stories
Click here for the latest broadcast news stories.