Broadcast News
11/06/2015
24-Hour Sound People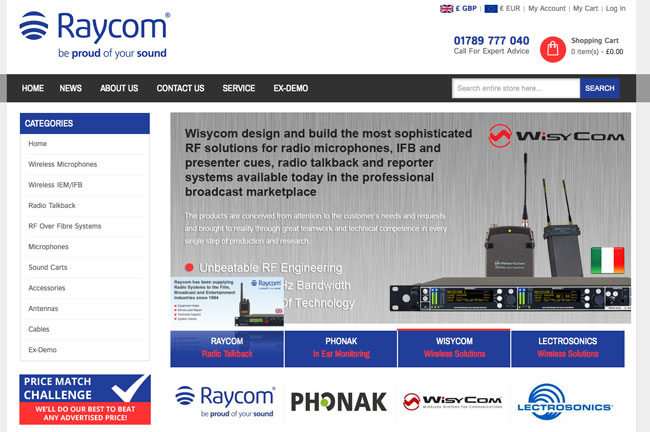 Raycom, a key distributor of wireless sound solutions for the European broadcast and professional live sound markets have launched a revised web site with full e-commerce capability,
www.raycom.co.uk
.
Andy Clements, business development manager at Raycom says: "We've realised for some time that our customers are rarely working regular 9-5 hours, the ability to source equipment at a time that suits them is vital."
Whilst being the new shop front of Raycom, the new site continues to provide a wealth of information on their product ranges from world renowned manufacturers such as Wisycom, Lectrosonics and Phonak alongside their own radio talkback base station the RTB6211D.
Andy continues: "The aim is to steadily grow the of products available over the coming months by introducing more ranges from the core manufacturers and additional offerings suitable for our customer base from new partners."
Visitors to the site will enjoy immediate notification of new product launches and highlighted monthly promotional offers.
Already available online for pre-order are the much anticipated L-series kits from Lectrosonics. L series represents an important release for the US based manufacturer of radio mics. All units share a wide tuning range of three standard Lectrosonics blocks, around 75MHz, depending on the specific frequency band, and employ Lectrosonics' patented Digital Hybrid Wireless technology for compander free audio along with compatibility modes for interoperability with older analog systems.
Also featured during the launch period are the clever Bubblebee microphone wind protectors. These well designed solutions to a long standing problem consist of an outer shell of imitation fur in a variety of colours and an inner core of nothing. This nothing is exactly what makes the Bubblebee tick enabling it to fight off the disturbing wind noise often associated with OBs. Bubblebees are available for the majority of popular lavaliere microphones each one specifically designed to offer a quick easy installation that stays in place once deployed.
Of course a shiny web presence only works if the back end is there to support it. Raycom are promising a depth of stock to surpass demand and the ability to ship most ranges to most countries within Europe in just a couple of days. Payment is safe and efficient in Sterling or Euro and customers are able to maintain a record of their purchases through a registration process.
The new website will provide sound recordists with a truly interactive method of working with Raycom. Selecting sound solutions, grabbing a much needed cable, registering a service return or simply making comments on a product will be available on any convenient keyboard or mobile device 24hrs a day.
This article is also available to read at BFV
online
.
(JP)
Top Related Stories
Click here for the latest broadcast news stories.